We care about our dogs and their puppies!
Our puppies are all born in our home, under very close supervision.
Blog/FAQ tab has "Deposit information," "What comes with your puppy," and "FAQ" pages, please check them out. A puppy is a very serious decision. Please do not get a puppy,  or a dog if you have any hesitation about long term responsibility of a furry best friend. 
Some parents and grandparents OFA certificates are on the parent page, (Orthopedic Foundation Association) for patellas, hips and eyes as recommended by the breed club.  No other breeder I know of does as much health testing, over such a long time for Westie's as we do.
(Many breeders do no testing at all!)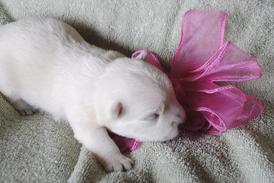 At a few weeks old they have their eyes open and are healthy chubby puppies.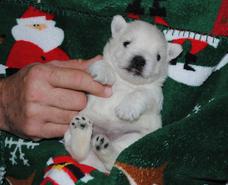 I usually take pictures when the puppies are 3 to 4 weeks old and have their eyes open.
The selection for a puppy changes quickly, and as you can see by the photos each of  my Westie babies are adorable! 
Fortunately they are all so cute and everyone likes something a bit different even when there is just one available he/she is still the perfect puppy for somebody.
We have some Champion Line, and many health tested parents. The puppies will be ready for their new home when they turn 8 weeks old. 
Moms due are listed under the current puppies section below. Please see each litter listed below for availability, and check the note of moms due if none are available.
My daughter is offering a new service available for training new puppies from our kennel. See more information under the recommendations page.
Current Puppies! (Middle of updating new website, sorry for any confusion!)
Feel free to send feedback if you like the slide show or would prefer the photos in a gallery. Not sure which style loads faster on phone or desktops.
I have different set-ups on different pages as I learn what works best and what is easiest to view I will update it. 
Kali and Seth had 3 female babies! born 3-2-18, ready 4-28. 
All the puppies are spoken for.
Photos at 3 weeks old, and 4.5 weeks old. Kali is a little girl, only about 11 pounds. She is energetic! This is her first litter and she is a great mom. 
Seth is a mellow guy and really easy going. When he was about a year old I was in FL helping my daughter move. When I came home I was so confused as I could not figure out who one of the mom dogs were. I went in the house and realized Seth was in the house and the mom who had been in the house had been put in the kennel where he was suppose to be. They had swapped places and no one had even noticed. I didn't recognize her because I thought she was in the house, I only knew she was not the correct dog. It is hard when they are all white dogs! I thought the male / female difference would have been a dead giveaway though. I now try to have different color collars and name tags on the dogs when I am going to be gone. They are all microchipped but having something easy to see helps those who don't recognize who is who. Art still cant tell most of the moms apart. He's not good with names in general.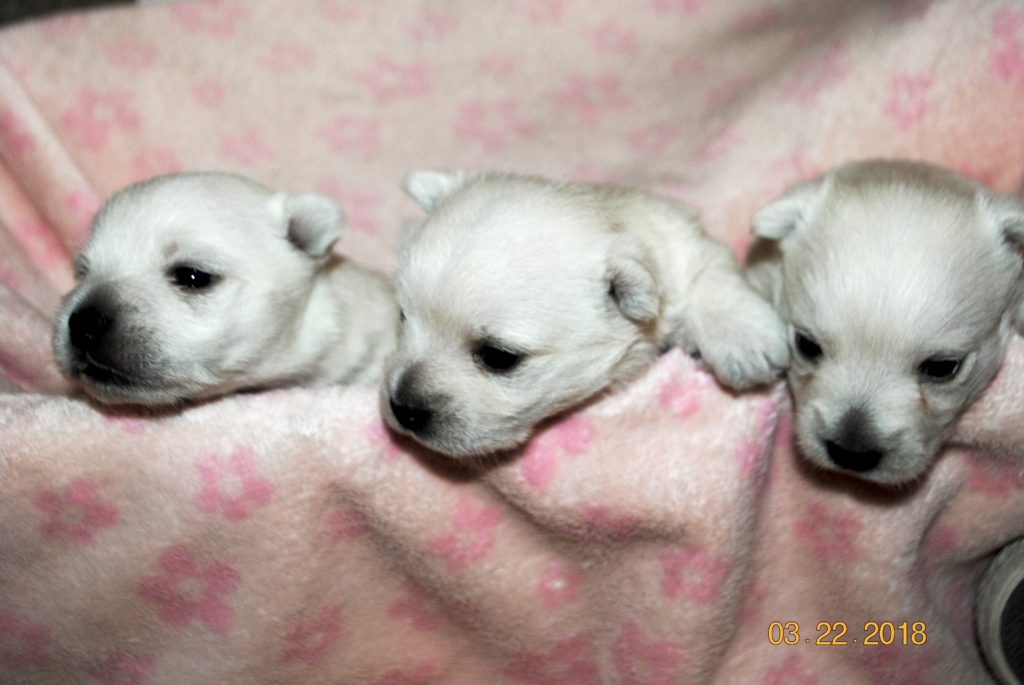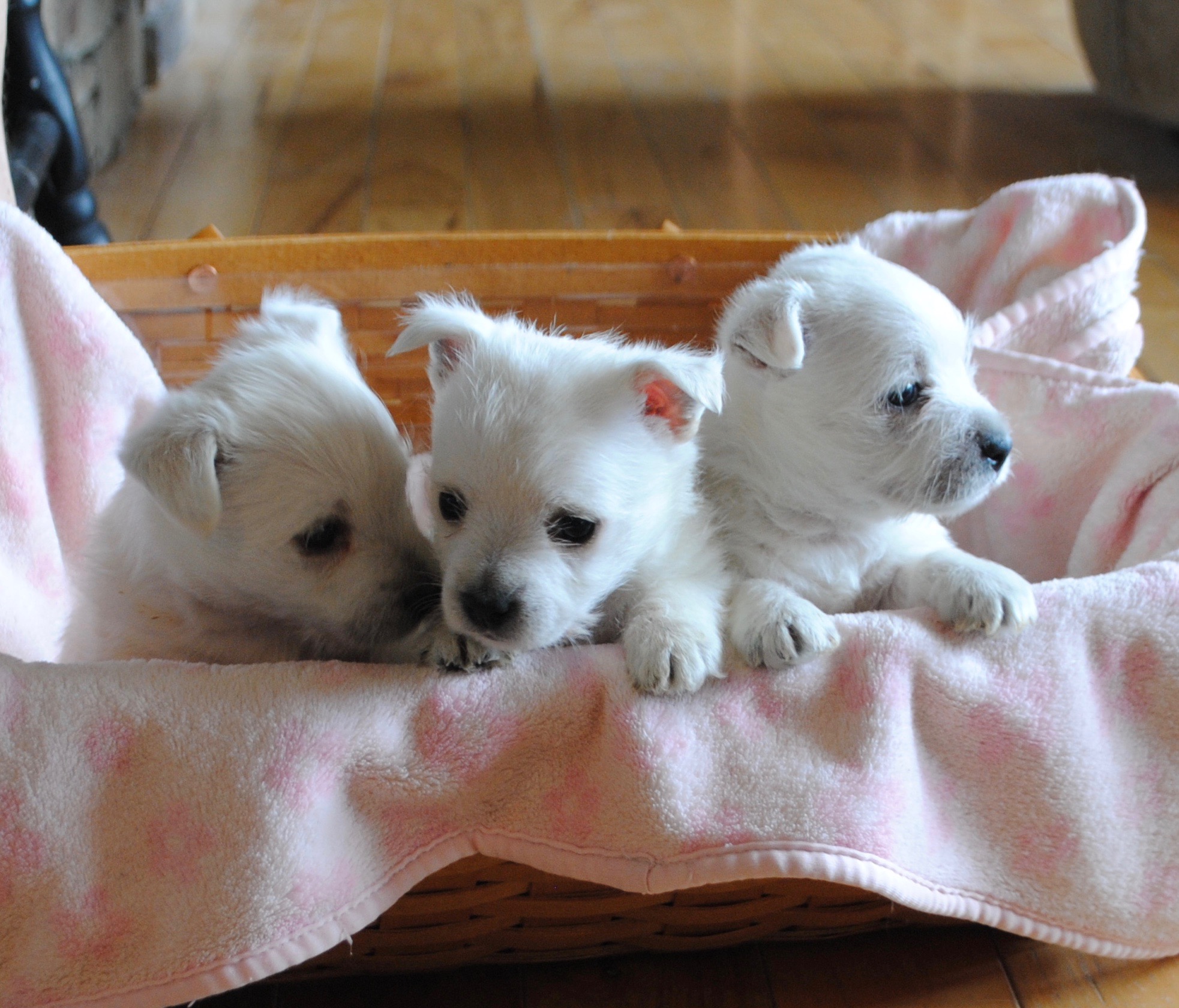 Maggie and Magnum had  babies! 4 male and 1 female born 3-13-18.
Photos at 3 weeks old. Maggie is a sweet heart. Sherman is her grandfather and her mother is from Hungary. She's average female size about 15 or 16 pounds. Magnum is an energetic boy who has great hunting ability. He is about 18.5 pounds now, our biggest westie. He has had 1 or 2 sons who have been a bit over 20 pounds. 
2 male are available at this time.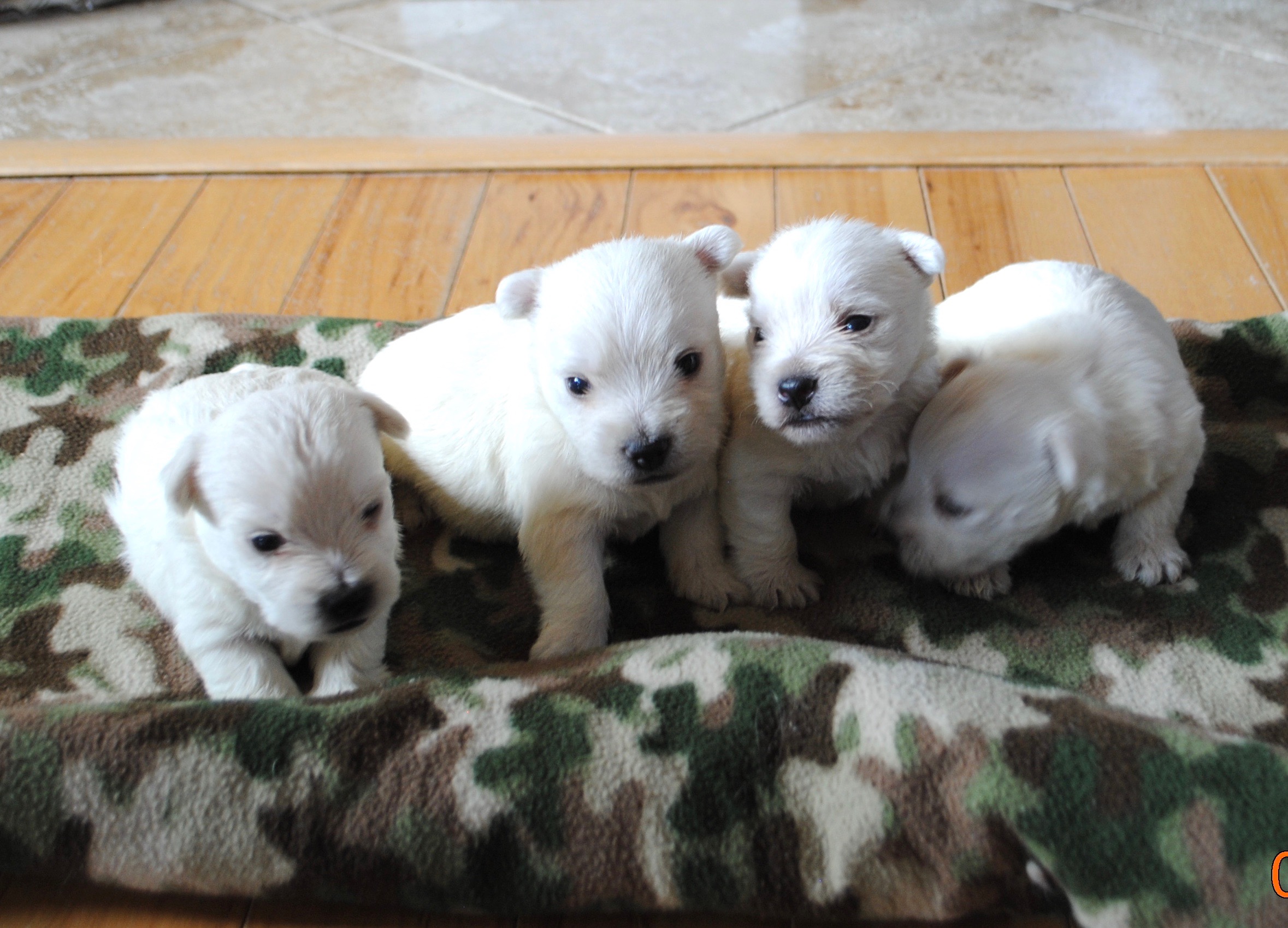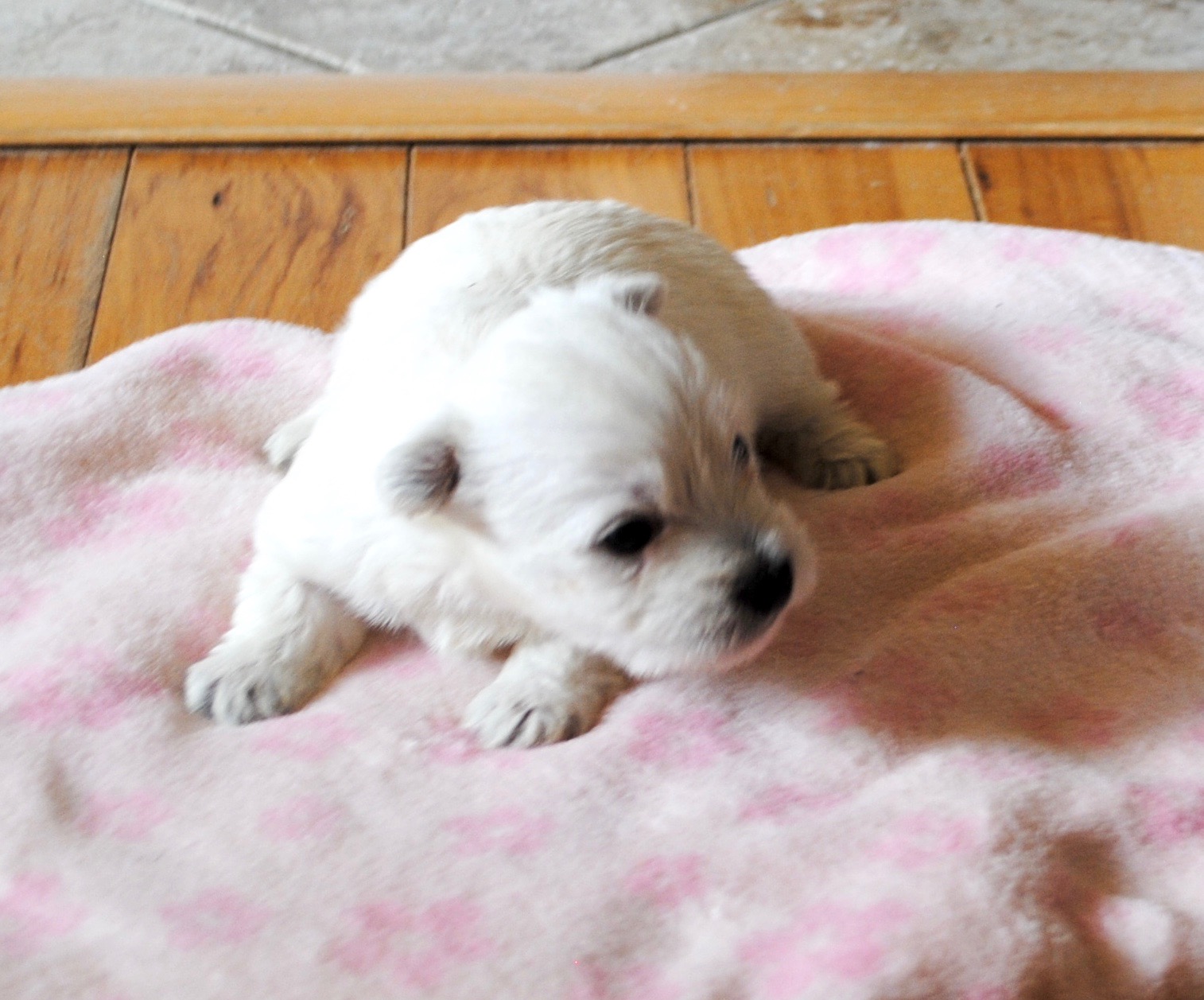 Bling and Archie had  babies! 5 female and 1 male born 3-14-18
Photos at 19 days old. Bling is another small girl, about 11 pounds, she's really easy going. Archie is our newest male, barely a year old now. He is smart and does catch on fast. He thinks he should be top stud dog now that he is a daddy dog. He will probably be about 17 pounds when fully grown. 
2 females are available.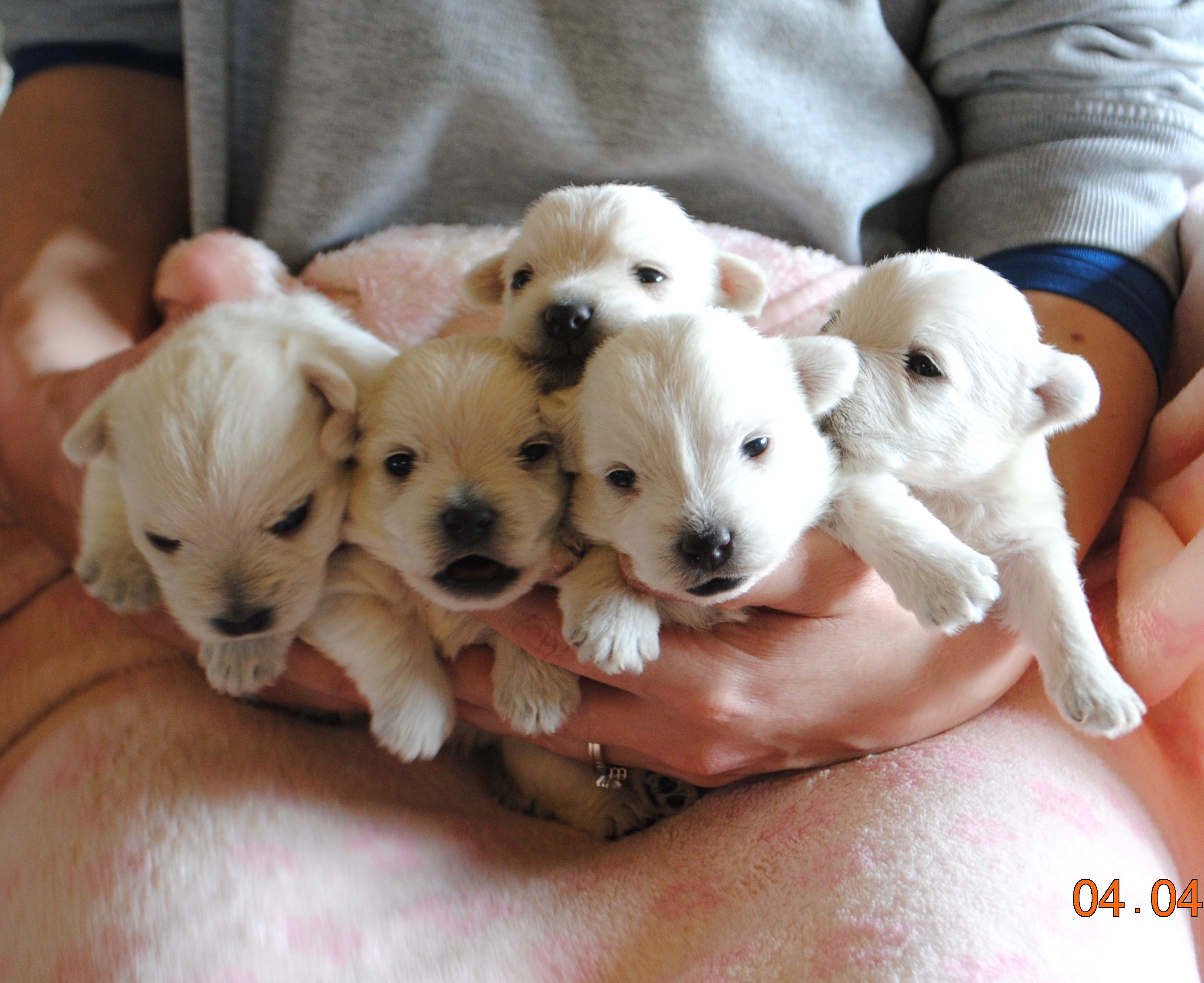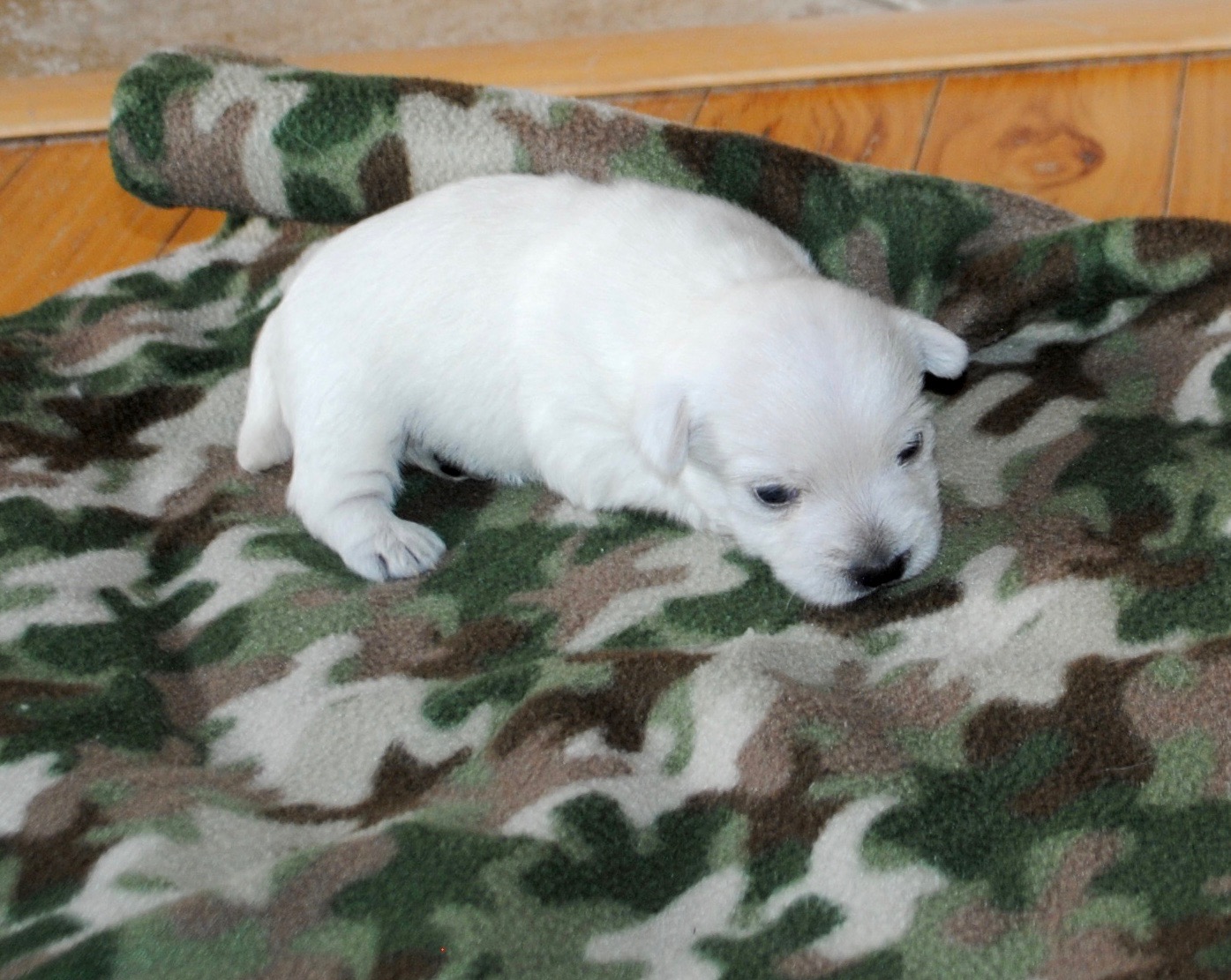 Marley and Archie have babies! 1 male and 2 females born 3-23-18.
Photos at 12 days old. Marley is my grandsons dog. She's a tiny 10 pounds. She sleeps with him and is very easy going. She was missing once for 24 hours, we were all in a panic. Called and searched everywhere. He went to bed and heard scratching in his dresser. He pulled out the half closed drawer and discovered she was behind the drawer in a tiny space! She had been trapped behind the drawer for 24 hours and never once barked! They had called and searched and because he is not the neatest 8 year old having the toy drawer half out they had looked in the drawer but who would have thought she would be behind the drawer?! She didn't even have an accident. Still shocked she never barked, or even pushed the drawer out herself. She was here to deliver and is now back at their house. The boys love the puppies and also help with the training of the weaned puppies Kim works with for families. 
Both girls available at this time.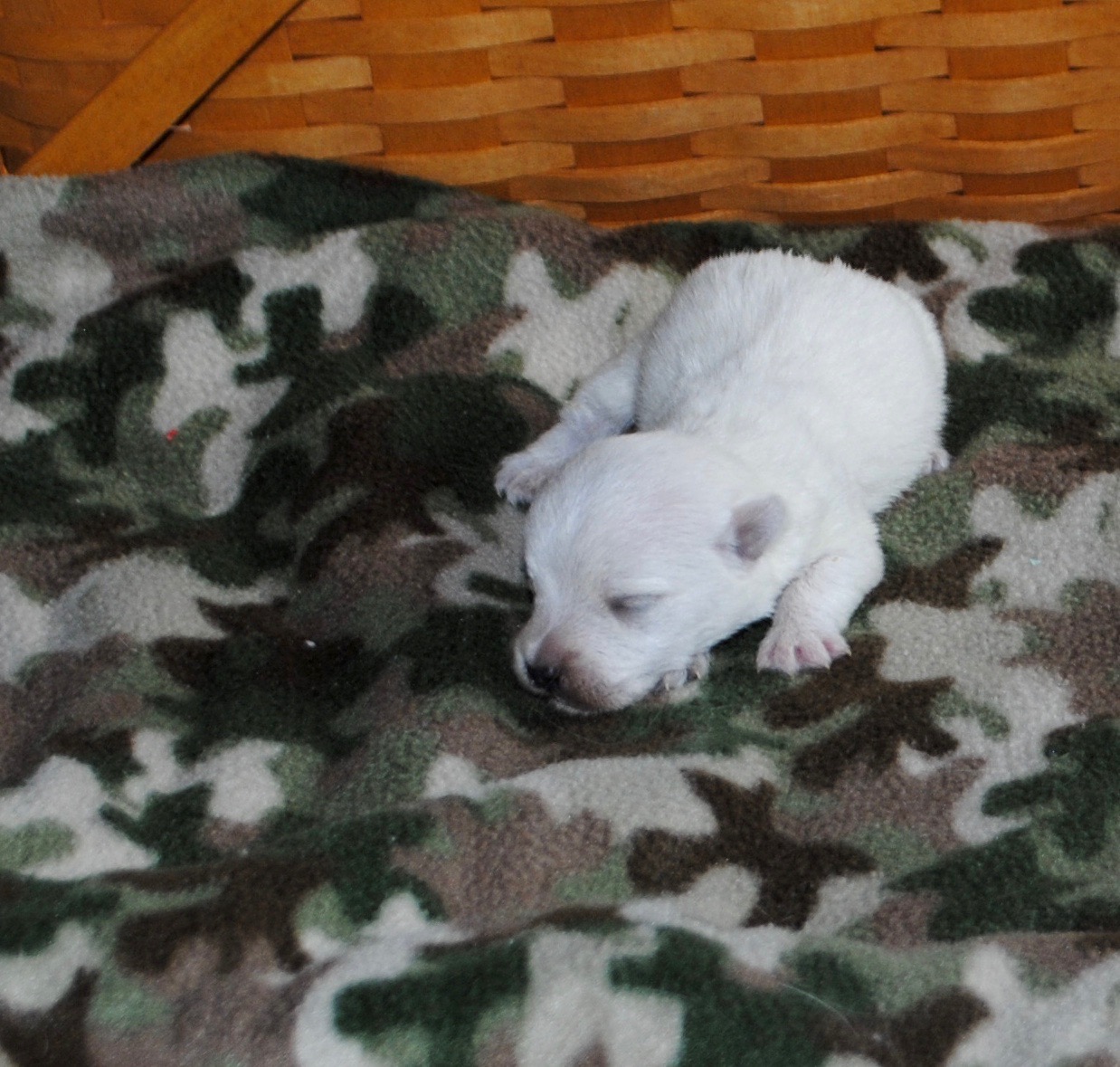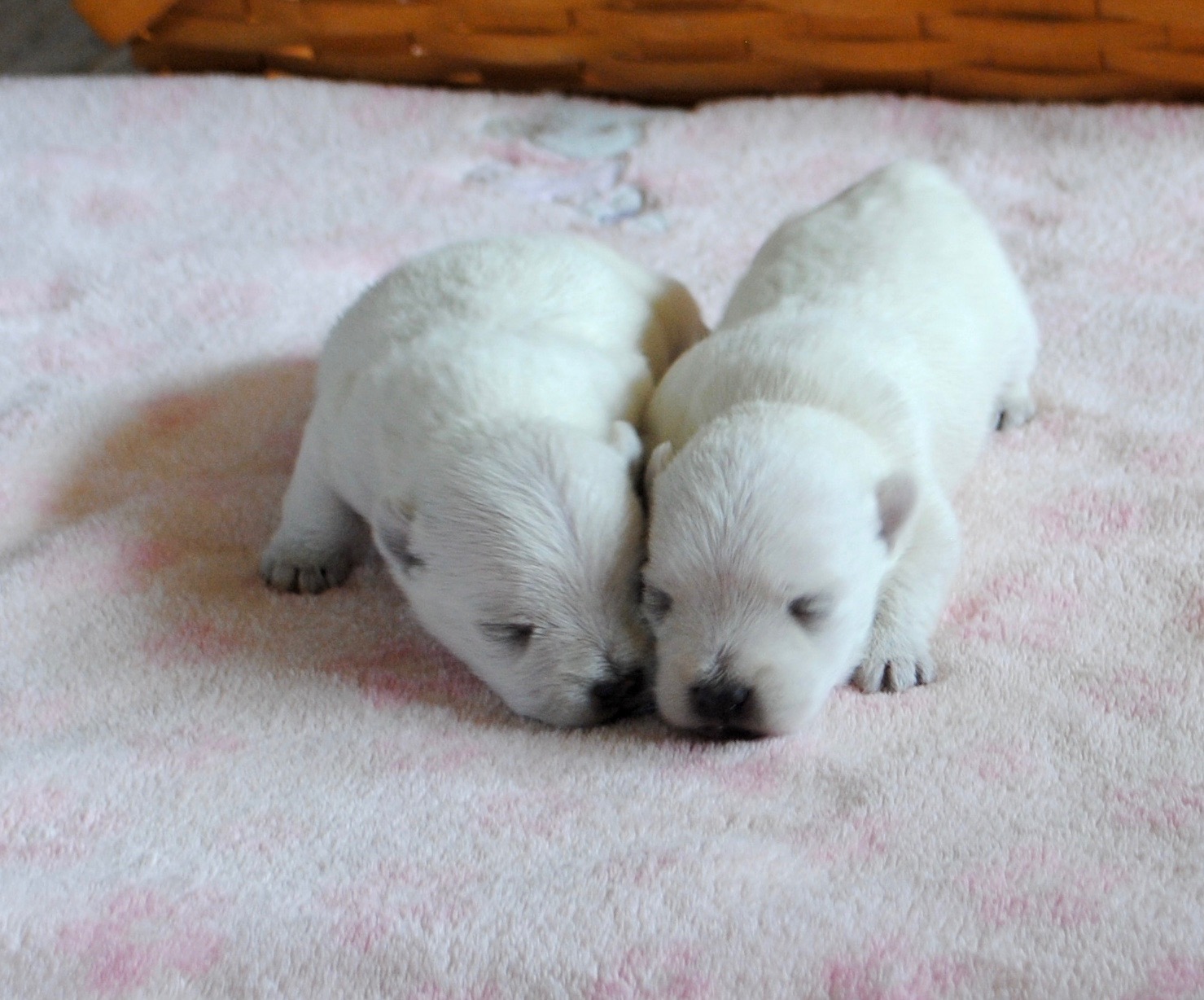 Anna and Ernie had  babies! 4 male and 2 females born 4-3-18, on Art's Birthday! They are all doing great. Its her first litter but she is like a pro! 
4 male and 1 female are available at this time. 
Will take photos after they open their eyes. 
Annabella and Ernie had babies last night, 4-7-18! 2 male puppies. One is not quite acting right. Watching him closely, and making sure he nurses.  This is moms first litter she's not sure what to do. The other is doing great.
Update: Sadly we lost the pup who wasn't acting quite right. 🙁 I am wondering if mom accidentally hurt him at birth, or he was oxygen deprived taking to long to breath. We found him after he had been been born and he wasn't breathing well then.
The other male is doing great. We put him with Pretty Girl, (the cavalier mom, ) litter. She has tons of milk and only 2 of her own puppies. Its easier for them to keep up milk production if they have at least 2 puppies. Often milk will dry up if they only have one baby. Plus the puppies like to be able to snuggle with other puppies and play with siblings as they get older.
Will get photos when his eyes open. He is available at the time of this update.
Pippy and Colt had 2 females and male, 4-10-18! Pippy had a long pre labor. Started 4-6, I sat up until 1am 4-7. She decided to nap so I went to bed and checked her every hour. Had the first puppy, the male, at 5:55am, then she promptly went back to napping. We did chores checking her often. I eventually picked her up and rubbed on her belly awhile. She had the next pup at 10:12am. Then went back to napping. Dogs normally nap after they have delivered all the puppies, or take a break in the middle if its a big litter.
Pippy usually takes naps in-between puppies. Well she just napped and napped and I tried rubbing her belly had her in and out many times. The puppies were nursing just fine. Since we have taken off to the vets for an emergency c-sectin and they deliver in the car due to the jiggling around in the car I guess. I held her on my lap jiggling her and she acted like it was working and she thought about going back in labor, and then went back to napping. We took her for an emergency c-section. Our after hours vet is almost 2 hours away. Got back home at 1am with the last little puppy and mom. They are all doing fine! 
Will get photos when their eyes open.
All the puppies are available at this time. 
Chloe, a friends girl, and Crisco had 2 females and 2 male, 4-18-18! She adopted Chloe from us awhile ago and we out her puppies. Ashley does a great job with the puppies and has 3 small children so they are very well socialized. One boy is smaller and not nursing as well. He is here to be supplemented.
Will get photos when their eyes open.
All the puppies are available at this time. 
Pixie is in labor now, 4-21-18. Archie is the father. so far 3 boys and a girl. We may keep the girl. Hoping for another girl. I think she will have 1 more. 
We leave for a trip tomorrow so I was hoping she would have puppies prior. Aryne will be saying here while we are gone, and Keith and Kim will both be in and out to help get chores done. Art and I went one our first trip in 9 years last fall. We were gone 6 days. We hope to be able to be gone 7 or 8 days, but we'll see how it goes here. Keith has a bulldog who will need a c-section also due this week. She is here so soon will be around her 24/7. My uncle is also here and can help with driving.
Will get photos when their eyes open.
All the male puppies are available at this time. 
Mom's Due
The mom's like to cycle at the same time as their friends. We may have no puppies at all, and then suddenly like a snowball effect have lots of puppies! (Female canines only cycle about once or twice a year, unlike some other mammal's.)
I lost the middle of this section when changing to the new website. Blossom, and Billie Jo, are due real soon. I think Billie Jo is just chubby and not actually pregnant. 🙂 
 Its too early to tell yet if those due more then a month away or more are expecting for sure, or not. 
​
 Deposit information for future puppies
Until the puppies arrive we just don't know how many, or what sex they will be. Deposits for puppies not born yet are simply for a puppy either in an expected litter, or for one who will be 8 weeks old closest to when a puppy is desired. We let families pick their puppy in the order we have received deposits.