We care about our dogs and their puppies!
Our puppies are all born in our home, under very close supervision.
Blog/FAQ tab has "Deposit information," "What comes with your puppy," and "FAQ" pages, please check them out. A puppy is a very serious decision. Please do not get a puppy,  or a dog if you have any hesitation about long term responsibility of a furry best friend. 
Some parents and grandparents OFA certificates are on the parent page, (Orthopedic Foundation Association) for patellas, hips and eyes as recommended by the breed club.  No other breeder I know of does as much health testing, over such a long time for Westie's as we do.
(Many breeders do no testing at all!)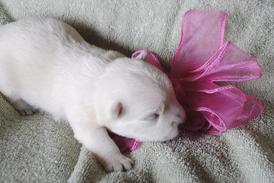 At a few weeks old they have their eyes open and are healthy chubby puppies.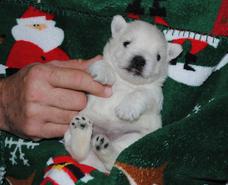 I usually take pictures when the puppies are 3 to 4 weeks old and have their eyes open.
The selection for a puppy changes quickly, and as you can see by the photos each of  my Westie babies are adorable! 
We have some Champion Line, and many health tested parents. The puppies will be ready for their new home when they turn 8 weeks old. 
Moms due are listed under the current puppies section below. Please see each litter listed below for availability, and check the note of moms due if none are available.
My daughter is offering a new service available for training new puppies from our kennel. See more information under the recommendations page.
Current Puppies!
Fortunately they are all so cute and everyone likes something a bit different even when there is just one available he/she is still the perfect puppy for somebody.
Muffin and Magnum had puppies born 8-10-18.
 1 small very cute male available. He is now use to going potty outside. He had been paper trained.
I tried to take new photos but they didn't turn out very well, then Libbie took more pictures, which are much better!
Ginny and Alvin have a new litter born 9-29-18.
3 males. During delivery one of us stands by, she generally doesn't even need help delivering she's such a good mom. She is getting retired so this will be her last litter. Such a sweet girl! She has a family already waiting for her. 
First photos at almost 3 weeks old. The puppies are really growing. New photos at 5.5 weeks old. Super cute!
2 male puppies are available. 
Pickles and Kaden have a new litter born 10-13-18, only 1 girl!
Pickles is also turning 6 and being retired. She also has a family waiting for her. She has lots of personality!
The puppy had a deposit soon as I took the pictures and emailed them to someone asking. She now has adoption pending.  
Annabelle and Ernie have a new litter born 10-18-18. They will be 8 weeks old 12-13-18
3 males and 3 females. This is her first litter and she is just like a pro. She just loves her puppies! Her parents are Magnum and Annie Oakley.
Girls are on purple and boys are on orange.  Photos at almost 3 weeks old. 
2 male and 1 female puppies are available.
Bling and Ernie have a new litter born 10-23-18. They will be 8 weeks old 12-21-18
1 male and 1 female. She is a super careful mom! I will get photos when they open their eyes. 
Both puppies are spoken for. 
Maggie and Magnum have a new litter born 11-3-18. They will be 8 weeks old 12-29-18
2 males and 3 females. She is a super protective mom when the puppies are tiny. She takes really good care of her babies and doesn't want any of the dogs near them! Libby took photos they don't quite have their eyes open. 
2 male and 2 female puppies are available. 
Mom's Due
The mom's like to cycle at the same time as their friends. We may have no puppies at all, and then suddenly like a snowball effect have lots of puppies! (Female canines only cycle about once or twice a year, unlike some other mammal's.)
 Pixie and Archie is very round, plus Anna and Ernie may be due in November/December. 
 Its too early to tell yet if those due more then a month away or more are expecting for sure, or not. 
​
 Deposit information for future puppies
Until the puppies arrive we just don't know how many, or what sex they will be. Deposits for puppies not born yet are simply for a puppy either in an expected litter, or for one who will be 8 weeks old closest to when a puppy is desired, your choice. We let families pick their puppy in the order we have received deposits.