Adult dogs are often ideal for mature adults who dont have the energy or desire needed to train a puppy.
We have several Shar Pei, a French Bulldog, English bulldogs, and other adults available. 
Please email if interested in one of our adult dogs. Other adults are on the rescue page. Some were in very dire need when they came here. They need a real home desperately. 
We very rarely have dogs returned. Generally only 1 every 2 or 3 years. 
May/June 2018 we had 2 returned after 2 others in April all different breeds and different reasons! We will always take our dogs back no matter the age.
April, is an F1 golden doodle. 10 months old, born January 2018. She is housebroken, crate trained, spayed, current on vaccinations, and microchipped. She is great with kids, dogs, cats....
Very odd story how we got her. A family had bought her in Indiana brought her home and the one family member had a sever allergic reaction. As I try to educate people poodle crosses are not hypoallergenic unless all the parents, grandparents, ect. are also hypoallergenic breeds. Golden retrievers are not a hypoallergenic dog so even half poodle the puppies will not be. Like our Cavapoo puppies. Cavalier King Charles Spaniels are not hypoallergenic so the cavapoo puppies are not. We do have hypoallergenic crosses. the shichon-poo, and Malti-poo puppies are, as all the parents are hypoallergenic breeds.
Anyway, the breeder would take the dog back but not refund any money. It was a 6 hour drive for them to have picked her up. They did not want to drive that far and not get any part of a refund after having the dog less then a day. Their alternative was to take her to the dog pound as they needed her to be gone right away. They found us online. We bought her. I really don't know why but didn't want her to go to the dog pound. Good thing because she had only had one puppy vaccination at 6 weeks old and no doubt would have ended up with parvo as she was not vaccinated at all since and 4 months old!
We loved Beamer and Porcha the 2 goldendoodles we had rescued a couple years ago and placed in the best home ever. (They are on the rescue page) So we thought she could be a farm dog and we would breed f2  goldendoodle puppies.
April loves water. We live on a farm. We have misters for the horses, the hogs, and dogs when they are outside, all summer when its hot water is running. Which means invariable puddles, drainage ditches. I wanted her to be in and out of the house. Covered in mud and water proved to be more maintenance then I could manage for her to be a house dog. She is a perfect farm dog, well behaved, doesn't bother the cats, chickens, peafowl or anything, (steals an occasional shoe or boot), but she is in a kennel most of the time because we never know when someone may pull up the drive and we want her to be safe so she's only loose when we are out there. We just don't want that for her. We want her to have an excellent home. Most homes don't have muddy puddles in the fields all summer.
Needless to say she is so sweet and smart she needs an inside home. She loves people and company. Would be good with another dog or cat, she would be lonely if left in the house all day by herself if no one is home most of the time.
She is $1000. to adopt to the right home.
Kashe is a 6 year old Shar Pei, minimal wrinkles.Why she was returned is unknown. He said he didn't want to discus it but they feel horrible. They have had her since she was a pup. We have babysat her off and on in the past, thankfully. She is shy with strangers and barks at first. It had been about 2 or 3 years since we had last seen her.
She is very well behaved! Housebroken, can be loose inside, or outside here, comes when called. Doesn't get into anything. Is fine with the other dogs, she plays with Cappuccino, the little poodle, really well. She was the only dog in an only 1 dog family, and adjusted pretty quick to being playful with the other dogs, although she is on the alpha side.
She is spayed, current on vaccinations, microchipped, and was heartworm negative 8-2017 when she was last checked and has been on heartworm medication all along.
She had slightly rolling eye lids, common in Shar Pei. We had them surgically corrected in June 2018.
I love her, she's typical Shar Pei intelligent and just such an easy dog. She adores me, and Libbie, who is in training to train therapy dogs. She would be perfect for someone who wants a best friend who doesn't mind that she may not be super happy to see strangers. Good with cats, dogs, and other farm animals too. She is no charge to an approved home.
Baby Boo, a first generation Ori-Pei is available. We have decide to only do first generation cross and when she is bred to a Pug or Shar Pei it would not be a first generation cross. She is such a terrific dog we couldn't resist keeping her as a puppy. She had 1 litter of puppies bred to a Cavalier and they are SUPER cute, laid back cuddly babies. The best temperaments ever. At the time of this update 2 of the boys are available on the Ori-Pei page.
She was spayed, 9-4-18 and is available. She is almost 2 years old now. Super sweet, a bit shy of some men. Housebroken, crate trained and walks on a leash. Current on health care and microchipped. She is $400. to adopt to an approved home. Fee is negotiable.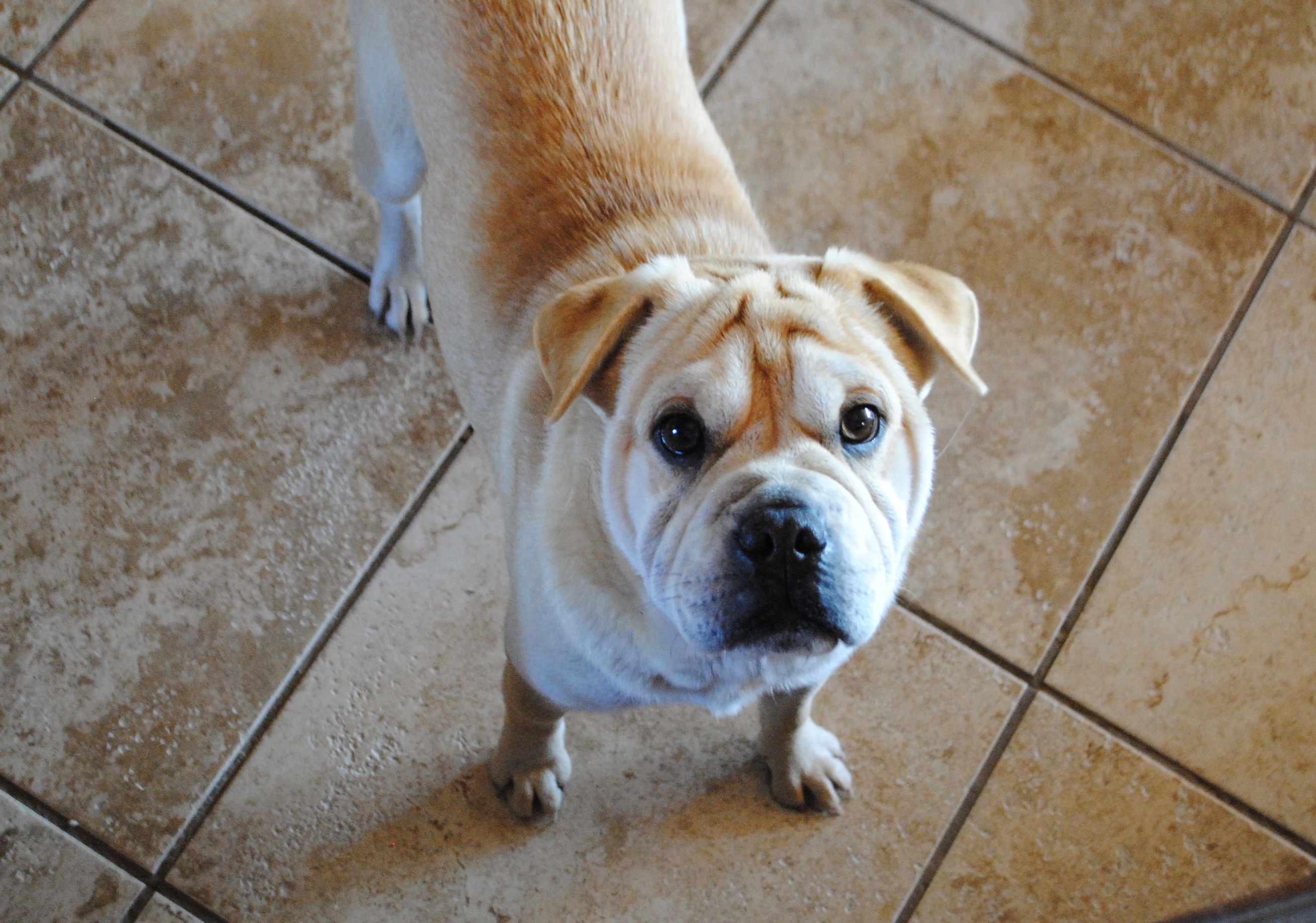 Charlie is now in a home on trial basis! (see note at bottom of Charlies post)
Charlie, AKC Westie. We had a call from animal control in SC. We live in IL. They had picked up a dog with our microchip information on.
He was a mess!
Apparently he had had fleas so bad he was missing large amount of coat, had a big sore on his back and his skin was all red and scabby. Someone had shaved part of him.
I didn't look up who had adopted him but they clearly had not followed the contract. We said we would like him back. He was held for the typical stray hold and not claimed, another proof in point they were not taking care of him, they didn't call me or the shelter looking to see if he had been picked up. I must say I am glad.
We paid to have him shipped back to us. The shelter was terrific about getting him everything he needed to fly, and took him to the airport at the required time. Really nice people!
I looked him up. He was a puppy they had put in a 3x3 pen and thought that was plenty big enough for exercise. Calling often at first with complaints he is barking and chewing on them. He got no real exercise. Very long story. Needless to say he is 3 years old, neutered, now current on vaccinations. The shelter had him on antibiotics for the skin infection he had from the severe flea infestation. He is free of fleas. He is microchipped, (thank goodness!) His skin looks great and his hair is growing back in.
He is a VERY cute boy, sweet loves attention and seems to be good with other dogs. He is a Precious and Seth son. Seth is one of my favorites.
He is available for adoption now that we have had him a couple weeks to know he isn't going to come down with anything and he is up to date on everything. We have to had him inside to see if he is housebroken as we have puppies in the house and he had been at a shelter. He is crate trained really well, walks on a leash and seems to be a terrific little guy. He is $800. to adopt.
These photos below were taken at the shelter. I need to trim him up and take some new photos!
I just received a terrific email! I guess Charlie has found his forever family 🙂 What a great day, Happy tears!! 
"Dear Laurel, we feel so very blessed to have found you all and then be able to bring a new Westie into our lives!  We've renamed him and he's getting used to his new name - Hamilton.  We took him to our vet here in Chesterfield and he agrees that Hamilton is a good match for us and we are a good match for him.
Hamilton seems to be remembering his past training like sit and no.  He likes his crate and is doing well on the potty training. He's very curious and loves to sit on laps!  We'll get more training started as the days go on. ....
From two very happy Westie parents,"
We have adult French Bulldogs available! We have decided to add some different colors, and have kept female and 2 male puppies from our boys, so we need some unrelated dogs.
Buster, Merlin, and Dex are all available.
All super happy friendly dogs. Please email if interested.
Price varies if they are going to be pets we will neuter and they are available at half the price as with full AKC Buster (Champion sired), and Merlin, or ACA Dex registration. $3000. to $6000. with Full registration, or $1500. to $300. as a pet and we will neuter them before adoption. All proven stud dogs. Also all crate trained, walk on a leash and they do not potty in the large kennel inside. Merlin and Dex will breed naturally, Buster will occasionally.
Not the best photos. Please email if interested and I will take new pictures.
I retire all our mom dogs after several years of breeding.
It works great for us, for our retired moms, and their new families. They are healthy, housebroken, crate trained, and come when called already. They all walk on a leash and stand great for grooming.
They will take some adjusting into a new home but they are so easy many families keep in touch for a long time letting me know what a great Westie they are and how happy they are to have one of mine. They are wonderful for the person or family who wants a companion, without all the time and energy a puppy requires.
Some have not been loose in the house very much but they never potty in a crate, and most automatically go to the door when they need out.
If you are looking for an adult who has had a kind and warm family life a retired adult would be perfect for you. Contact us for current information to find out when a retired adult dog will be available. I don't keep this page updated as often as needed since I have a list of families waiting for an adult. Please feel free to email for current info.
Our retired moms are usually 6 years old and $650. they will be spayed, teeth cleaned if needed, and current on health care. Please email if you would like to be on the list for an update when an adult becomes available.​
We also occasionally have older puppies available. They are crate trained, and have the benefit of being able to wait longer to potty for those families who work, or are gone longer then a young puppy can wait. They also learn and remember quickly, since they are a little more mature. They easily move right into their new family the way a young puppy will. Please check on the breeds available puppies page for them.
(See Program below on "foster to adopt".)
Westies
We have retired Westie moms who will be available in probably late 2018. Although anything can happen that we would retire one early. We should have 3 retiring winter through summer of 2018/2019. 
Cavaliers
We have a couple who will be retiring in 2019, and 
(See Program below on "foster to adopt.")
French Bulldogs
We only breed the French Bulldogs a few times if they need c-sections. Unlike dogs having puppies naturally they should only have about 4 c-sections before being spayed. Needing a c-section is one reason the cost of puppies from these breeds cost so much more. They take just as long to mature yet they get retired much younger, with more vet bills. Amazingly they don't act much different after having a c-section compared to having puppies naturally.
Fiona a cream colored Frenchie will be bred 1 more time and available spring/summer 2019.
Buster our chunky Frenchie male is being retired. We have  couple of his daughter so needed an unrelated boy. He is a happy agreeable boy with a big wide frenchie head.
(See Program below on foster to adopt.)
Keith's Bulldogs
Keith has been working so many hours he has decided most if not all of his beloved bulldogs need to be sold, or in foster to adopt program. The property he bought has had serious air-conditioning and plumbing issues. He is terrified the air-conditioning will go out when he isn't home and the house gets way to hot really fast.
He has several from 1 year old to 6 years old. They are all crate trained, come when called, friendly, silly, goofy, happy dogs. His is open to someone interested in buying them as a group also. AKC, Rare colors!  chocolate, tan point, blue, plus all have had OFA heart and  eyes checked, some OFA patellas and genetic testing too. Healthy microchipped and current on vaccinations.
Uncle Al's Pugs
He only has a few adult female Pugs. He does have a few younger Pugs. His first retiree, Sugar he kept. She is is favorite. 
We hope to have some of them in foster to adopt programs. (See Program Below.)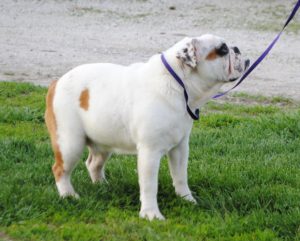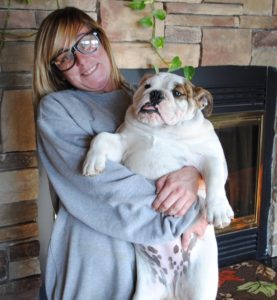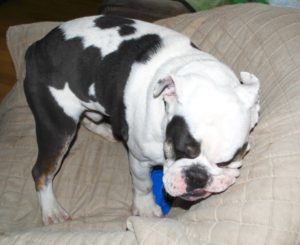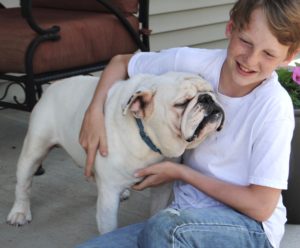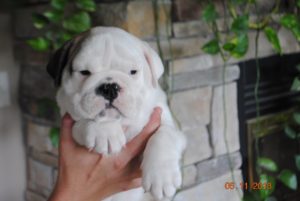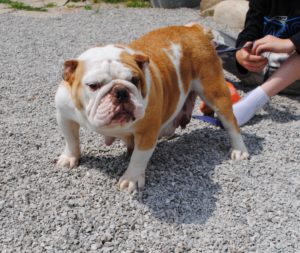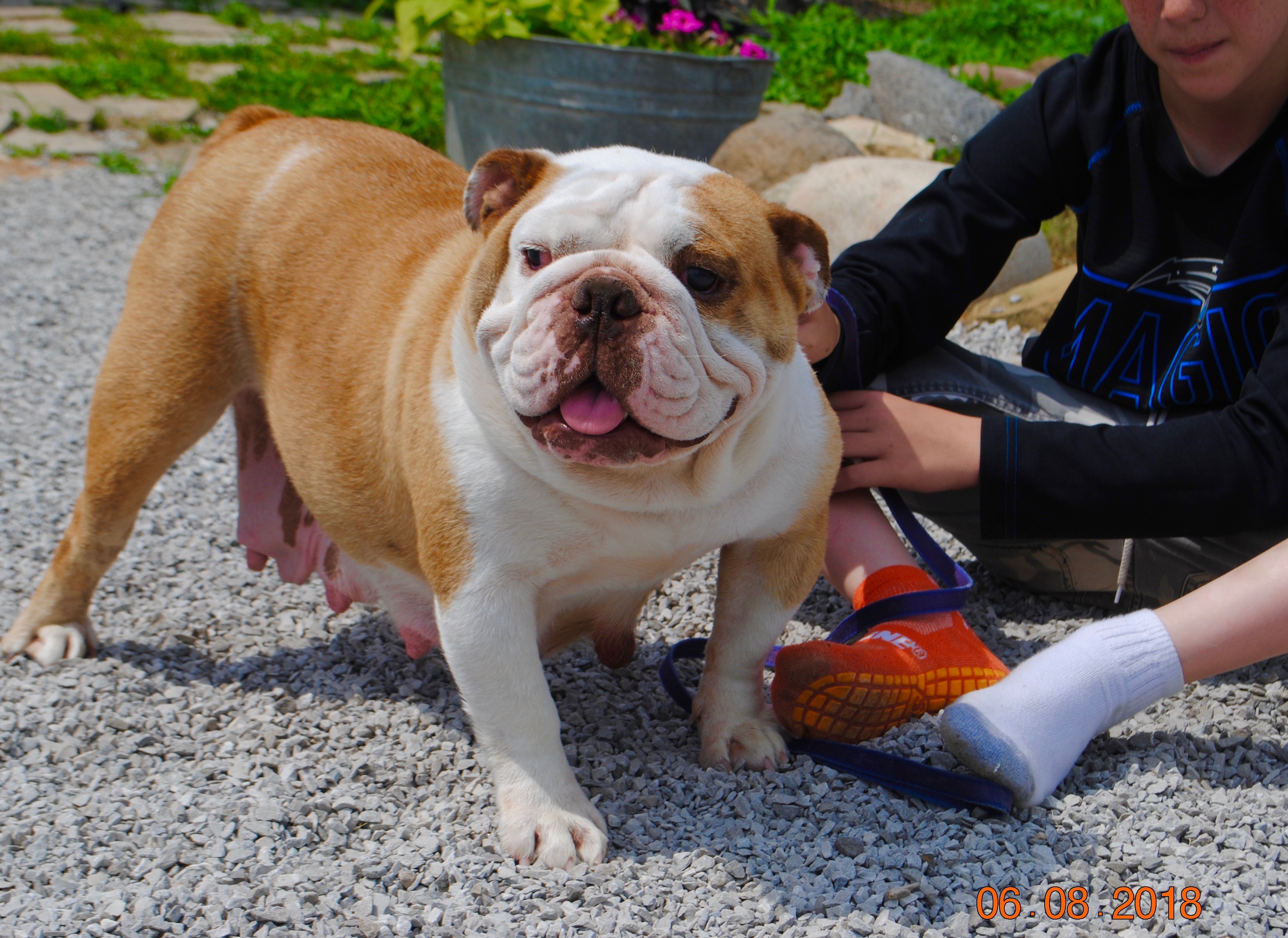 Foster to Adopt Program.
We offer a contract to approved homes who are interested in having one of our female puppies / dogs.
The family must live close enough to us that transporting her here a few times a year would not be a problem. 
Basically the dog will be owned by us, but live with a family. She would be here anytime she is in season (about twice a year), for health testing once a year, and when bred to have and raise the puppies. When she is retired she will be spayed and stay in her adopted home as a pet. Ownership will be transferred to her family at that time. 
We have several families with dogs on the program now. Its a great way to be involved with the joy of puppies without any of the expense or stress of the puppies or finding terrific homes. Plus we will babysit her when families go on vacations if needed and then she is in a familiar environment and lives with us, even sleeping with us if that is what she is use to.