Adult dogs are often ideal for mature adults who dont have the energy or desire needed to train a puppy.
We have retired Cavalier mom, and several Shar Pei, and others available. 
Please email if interested in one of our adult dogs. 
We very rarely have dogs returned. Generally only 1 every 2 or 3 years. 
May/June 2018 we had 2 returned after 2 others in April all different breeds and different reasons!
Kashe is a 6 year old Shar Pei, minimal wrinkles.Why she was returned is unknown. He said he didn't want to discus it but they feel horrible. They have had her since she was a pup. We have babysat her off and on in the past, thankfully. She is shy with strangers and barks at first. It had been about 2 or 3 years since we had seen her.
She is very well behaved! Housebroken, can be loose inside, or outside here, comes when called. Doesn't get into anything. Is fine with the other dogs, she plays with Cappuccino, the little poodle, really well. She was the only dog in an only 1 dog family, and adjusted pretty quick to being playful with the other dogs.
She is spayed, current on vaccinations, microchipped, and was heartworm negative 8-2017 when she was let checked and has been on heartworm medication.
She had slightly rolling eye lids, common in Shar Pei. We had them surgically corrected in June 2018.
I love her, she's typical Shar Pei intelligent and just such an easy dog. She adores me and would be perfect for someone who wants a best friend who doesn't need to be super happy to see strangers. Good with cats, dogs, and other farm animals too.
Binky a beautiful golden cava-pei is now available. Sadly family had parents with unexpected health issues and needed to move her parents, and their 3 dogs in with them. The had another dog too so Lucky got brought back due to no fault of her own, or anybody's. She adored her person and was her very best buddy.
She is housebroken, crate trained, very submissive, great with people and the other dogs, cats, and baby goats. All around super sweet. As easy as they come. About 35 pounds. She's quite mellow and laid back. Shy in new places. Would be perfect for a more quiet family, or mature family who wants a great friend who is low energy and really easy. She had slightly rolling eye lids, common in Shar Pei. We had them surgically corrected in June 2018.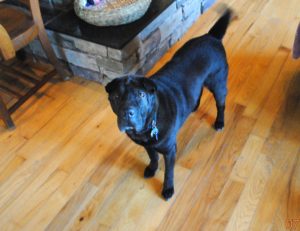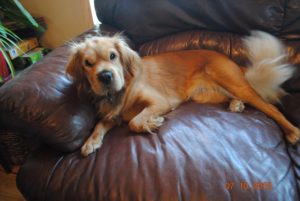 Purebred Cocker Spaniel, Benny Hill. We purchased him when I was wanting to get merle color puppies. I love the merle color.
I also love the Poodle crosses and cockapoo's have been around a very long time.
Cavalier and Cockers are both spaniels and also a super cross.
You have health benefit the cockers don't have the heart problems the cavaliers do. The cavaliers are consistently super sweet. We have the litter of cocker / cavalier cross puppies he sired on the cavalier page. They are ADORABLE!
He was suppose to be AKC, double chocolate merle, but turns out he is AKC lines, but APRI registered and is chocolate merle, but not double chocolate merle. Some of his puppies are not merle, they all should be merle is he is double merle. We have decided to adopt him out to concentrate on the AKC breeds, we have.
He loves my grandsons and was housebroken as a puppy. We have had him in the outside kennels more once he was grown.
He can be adopted as a pet or for breeding to an approved home only. Discount if he will be a pet only. We did do genetic testing on a 175 panel test and he is clear of everything, carries one health problem (Carrier only he will never have it.)
I retire all our mom dogs after several years of breeding.
It works great for us, for our retired moms, and their new families. They are healthy, housebroken, crate trained, and come when called already. They all walk on a leash and stand great for grooming.
They will take some adjusting into a new home but they are so easy many families keep in touch for a long time letting me know what a great Westie they are and how happy they are to have one of mine. They are wonderful for the person or family who wants a companion, without all the time and energy a puppy requires.
Some have not been loose in the house very much but they never potty in a crate, and most automatically go to the door when they need out.
If you are looking for an adult who has had a kind and warm family life a retired adult would be perfect for you. Contact us for current information to find out when a retired adult dog will be available. I don't keep this page updated as often as needed since I have a list of families waiting for an adult. Please feel free to email for current info.
Our retired moms are usually 6 years old and $650. they will be spayed, teeth cleaned if needed, and current on health care. Please email if you would like to be on the list for an update when an adult becomes available.​
We also occasionally have older puppies available. They are crate trained, and have the benefit of being able to wait longer to potty for those families who work, or are gone longer then a young puppy can wait. They also learn and remember quickly, since they are a little more mature. They easily move right into their new family the way a young puppy will. Please check on the breeds available puppies page for them.
(See Program below on "foster to adopt".)
Westies
We have retired Westie moms who will be available in probably late 2018. Although anything can happen that we would retire one early. We should have 3 retiring winter through summer of 2017/2018. 
Cavaliers
We have a couple who will be retiring in 2019, and 
Grace is available soon as her puppies are weaned. 5 years old, set to be spayed 8-2-18 please email for information and photos.
(See Program below on "foster to adopt.")
French Bulldogs
We only breed the French Bulldogs a few times if they need c-sections. Unlike dogs having puppies naturally they should only have about 4 c-sections before being spayed. Needing a c-section is one reason the cost of puppies from these breeds cost so much more. They take just as long to mature yet they get retired much younger, with more vet bills. Amazingly they don't act much different after having a c-section compared to having puppies naturally.
Fiona a cream colored Frenchie will be bred 1 more time and available spring/summer 2019.
(See Program below on foster to adopt.)
Keith's Bulldogs
Keith has been working so many hours he has decided his beloved bulldogs need to be sold, or in foster to adopt program. The property he bought has had serious air-conditioning and plumbing issues. He is terrified the air-conditioning will go out when he isn't home and the house gets way to hot really fast.
He has several from 1 year old to 6 years old. They are all crate trained, come when called, friendly, silly, goofy, happy dogs. His is open to someone interested in buying them as a group also. AKC, Rare colors!  chocolate, tan point, blue, plus all have had OFA heart and  eyes checked, some OFA patellas and genetic testing too. Healthy microchipped and current on vaccinations.
Uncle Al's Pugs
He only has 3 adult female Pugs. He does have a few younger Pugs.
We hope to have some of them in foster to adopt programs. (See Program Below.)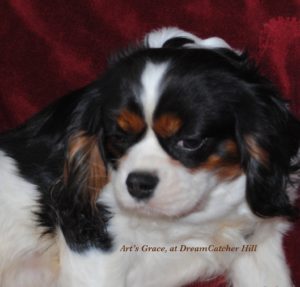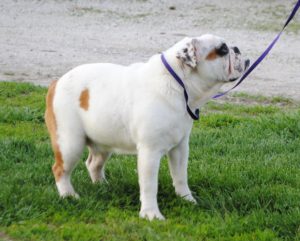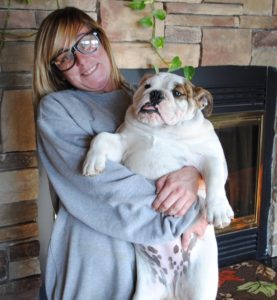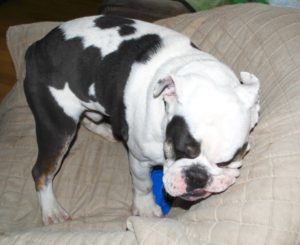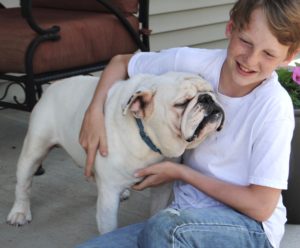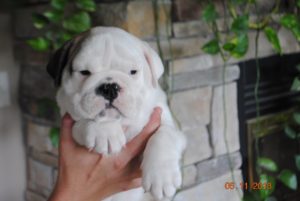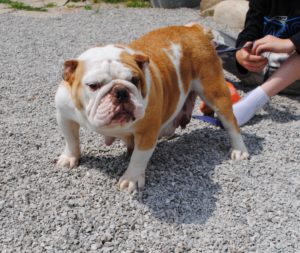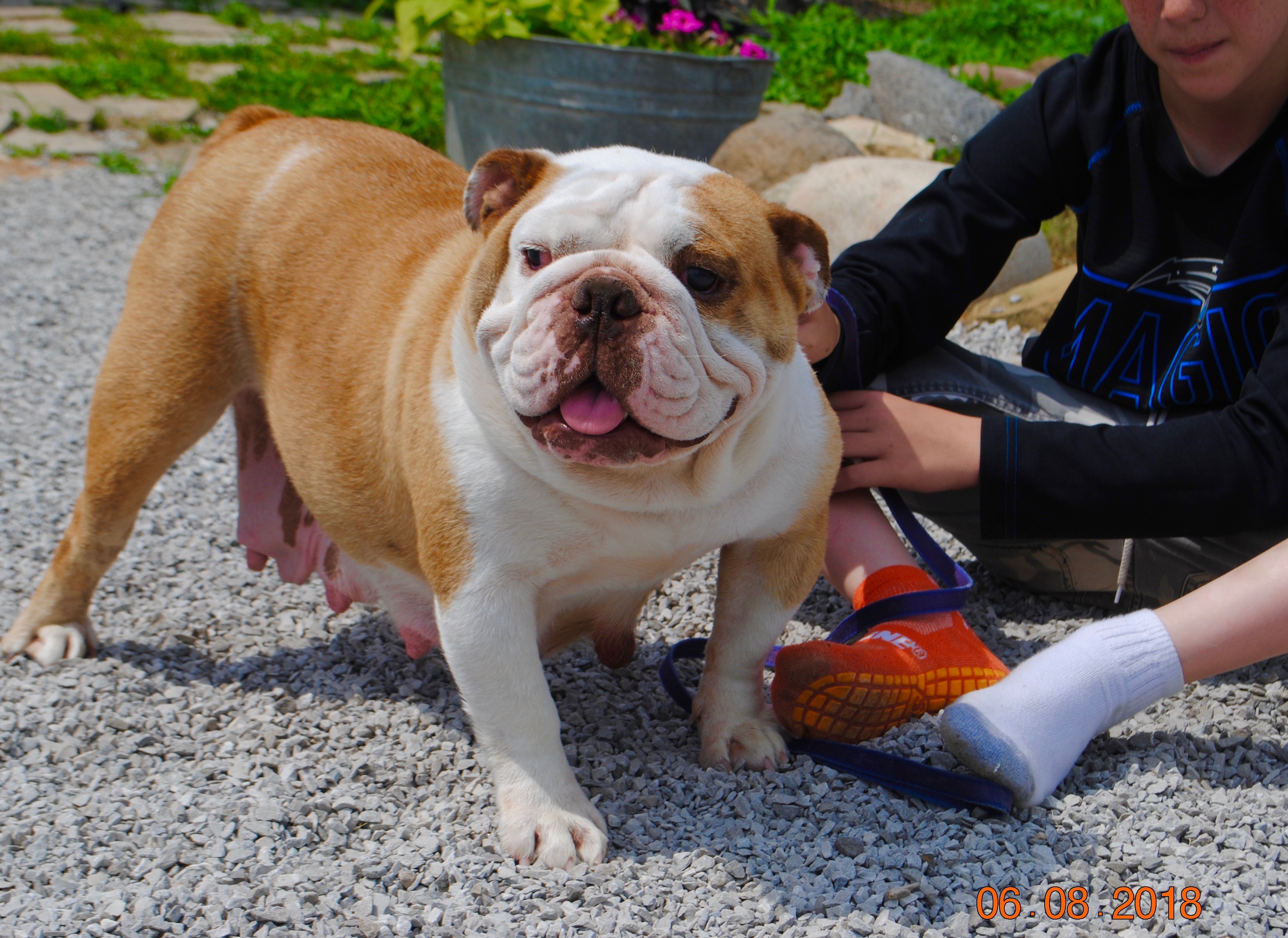 Foster to Adopt Program.
We offer a contract to approved homes who are interested in having one of our female puppies / dogs.
The family must live close enough to us that transporting her here a few times a year would not be a problem. 
Basically the dog will be owned by us, but live with a family. She would be here anytime she is in season (about twice a year), for health testing once a year, and when bred to have and raise the puppies. When she is retired she will be spayed and stay in her adopted home as a pet. Ownership will be transferred to her family at that time. 
We have several families with dogs on the program now. Its a great way to be involved with the joy of puppies without any of the expense or stress of the puppies or finding terrific homes. Plus we will babysit her when families go on vacations if needed and then she is in a familiar environment and lives with us, even sleeping with us if that is what she is use to.