Flint Creek ​ Home of my son's, Keith Grench, Champion line (English) Bulldogs.
 Lady is unrelated to Spike. She is a compact, chocolate brindle female from TX. Super cute! We will breed her to a Pug or Frenchie instead of pure English. The hybrid puppies are so much healthier and longer lived than a pure english bulldog.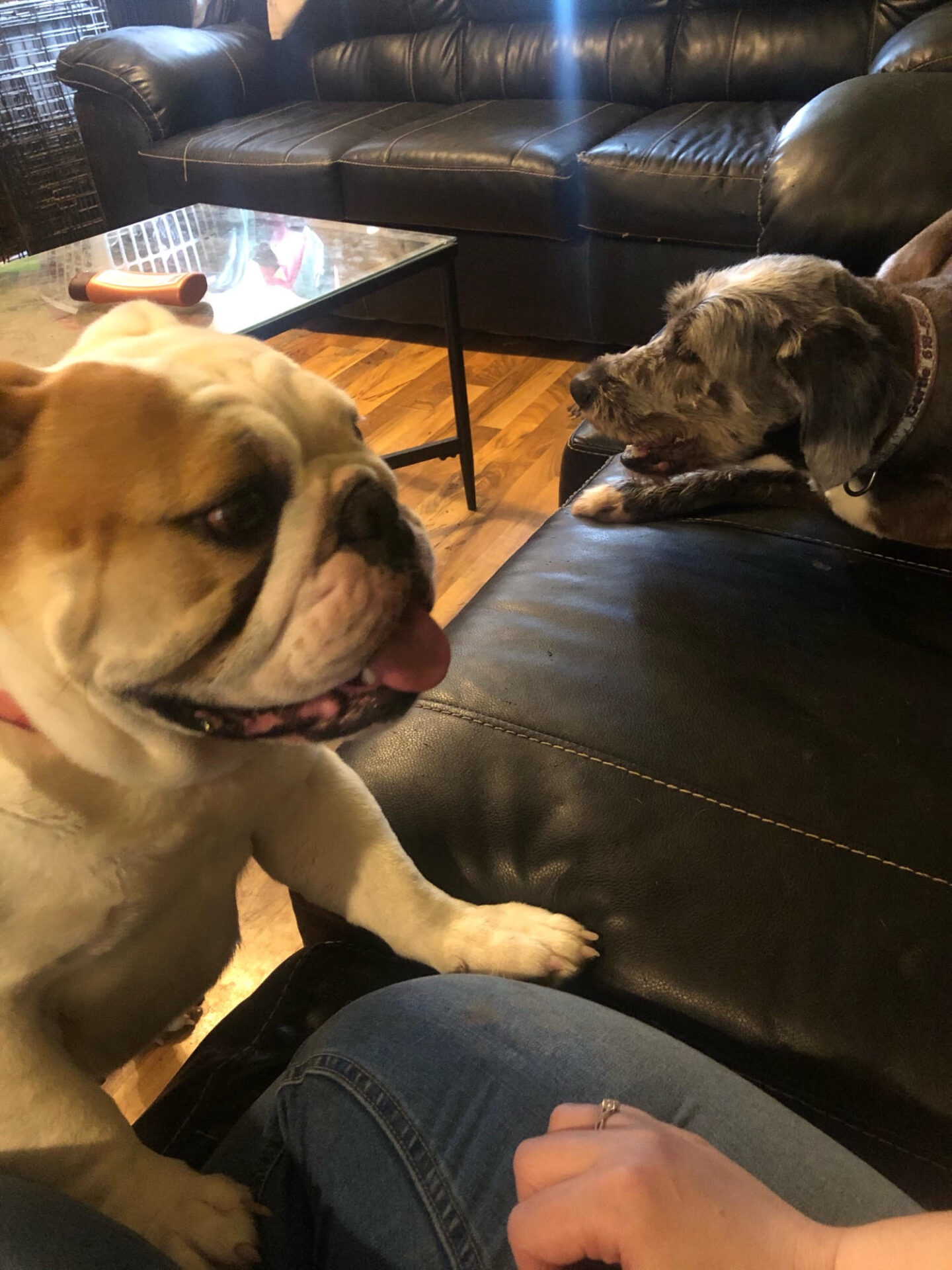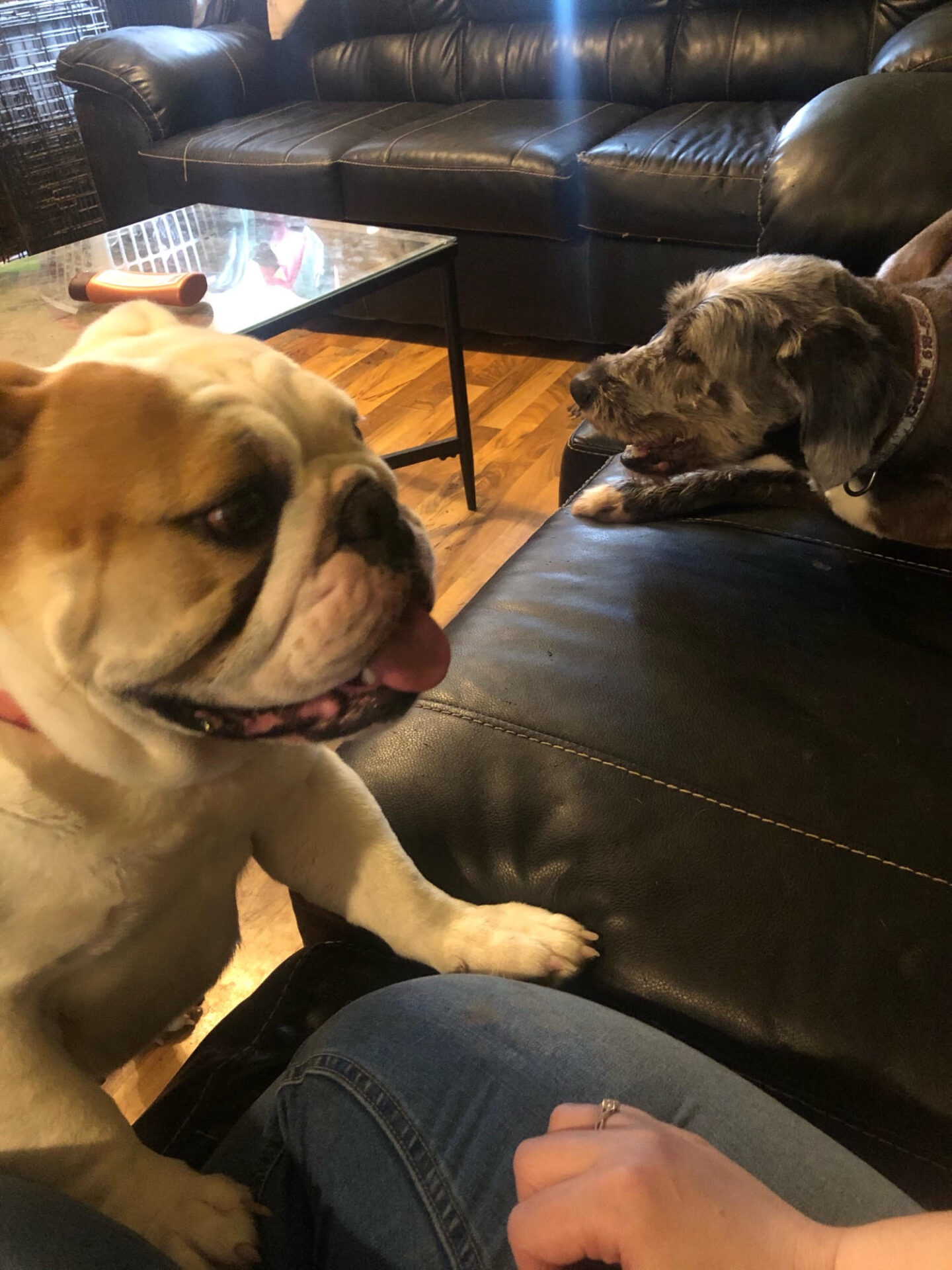 Keith's young male, Spike (Chloe's son) is a rare blue with tan points, terrible photos!  He is unrelated to Lady. ​Photos at 8 months old, and 1.5 years old. He is an average size Bulldog, about 65 to 70 pounds. Just a love bug. He gets along great with everyone. We have never used him for breeding. He was related to 2 of the girls and only Lady is unrelated. He lives in a pet home of a friend and we may breed him to Lady at some point.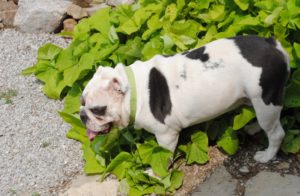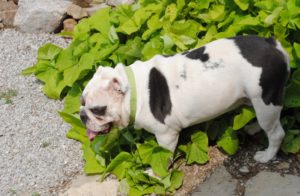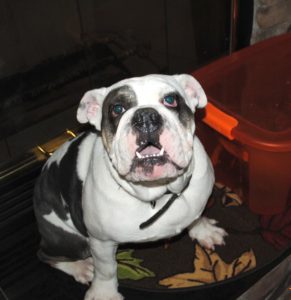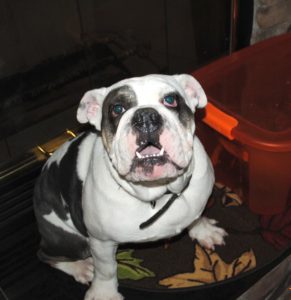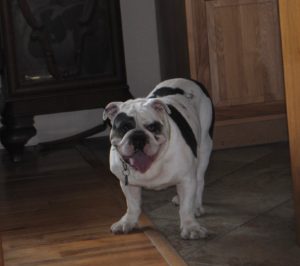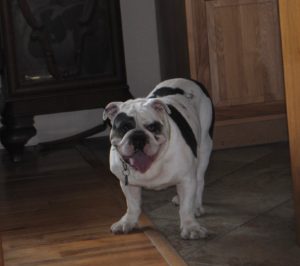 Photos of one of his first Bulldog male, Boss. He was older when we purchased him, his father is a TV star! He sired puppies one time in 2018, and 1 time in 2019. He was a super sweet dog! RIP Boss!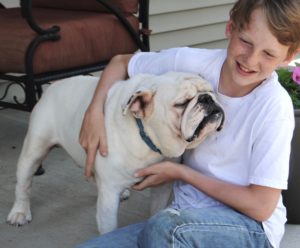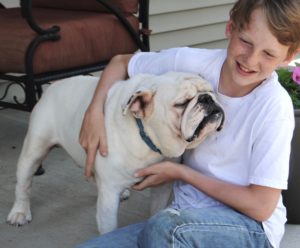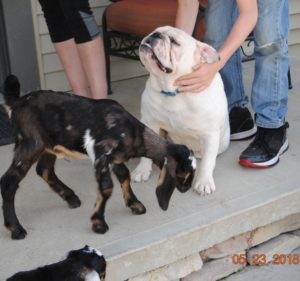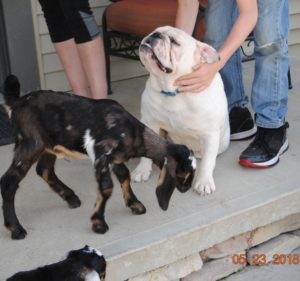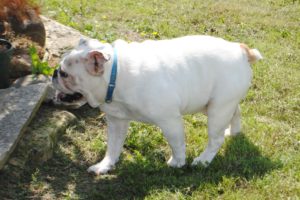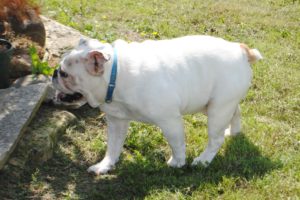 Art fell in love with a white puppy, and adopted "Grace" when we went to see the bulldogs for Keith. She is Spike's half sister, they share their father. Art holding her in first photo, Aryne holding her in grown photo. Grace is now living with Art's niece in what was suppose to be a foster to adopt home.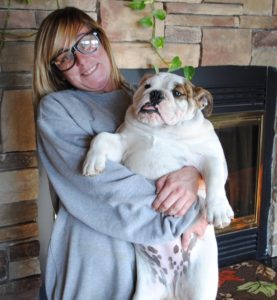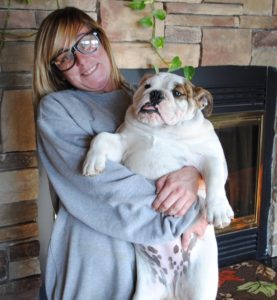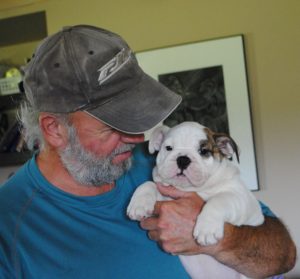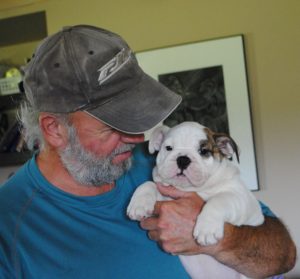 The past puppies who have all been adopted to homes.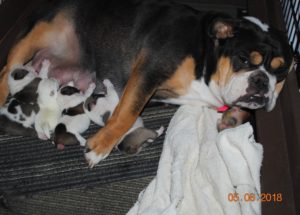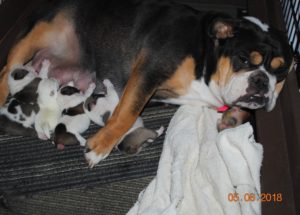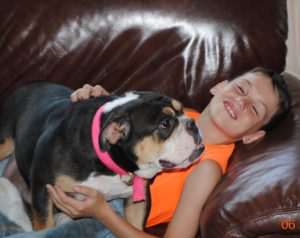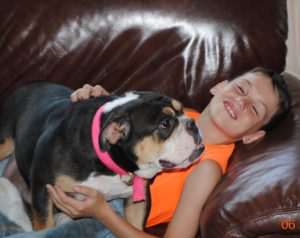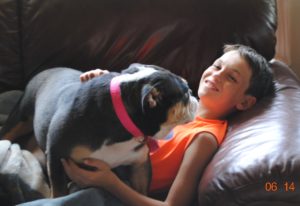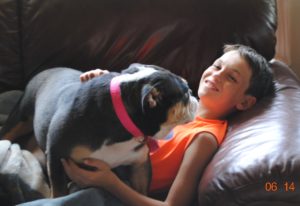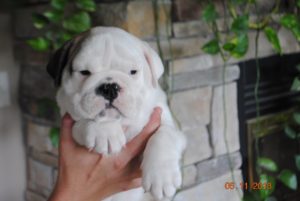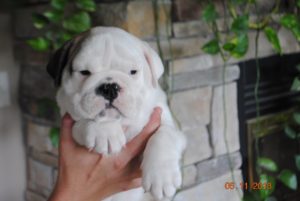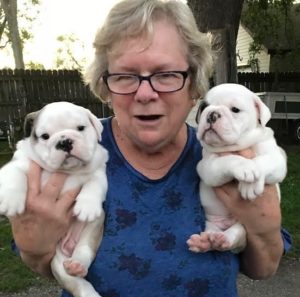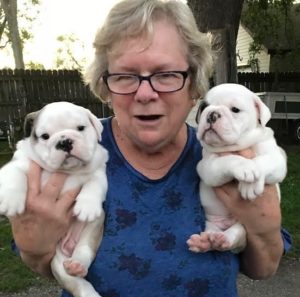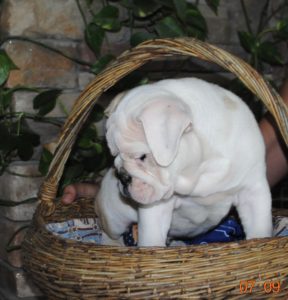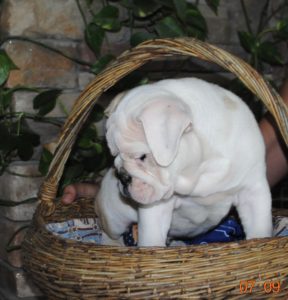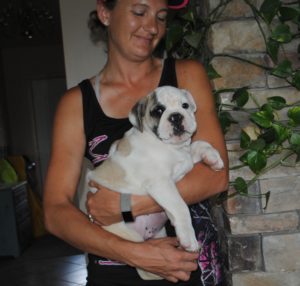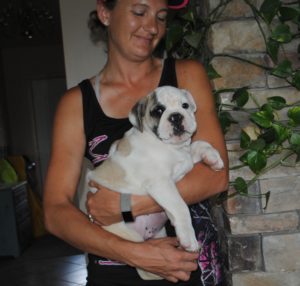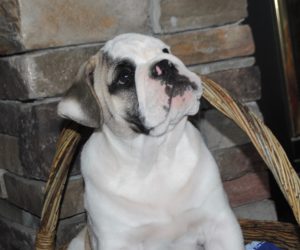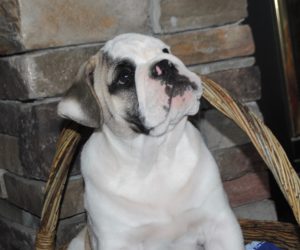 History of how Flint Creek started
My son, Keith, has grown up with my variety of wonderful dogs. Some were purebreds and some were rescues. I had purebred puppies since the time he was a baby. He has had at least 2 of his own ever since he graduated college.
Keith went off to college in Florida without a dog.  It wasn't long before he called home to get the "ok" to get a dog in case his landlord wouldn't allow him to keep one the last few months until graduation.  Of course I said any dog that isn't aggressive toward small dogs is fine with me. So off to the local animal shelter he went. He picked a sable Shepherd girl, about a year old, he visited her daily while awaiting the final paperwork and spay appointment before they would make the adoption official.  Finally her spay appointment came and he was headed to pick her up. When he got there he was told she passed away after surgery! It was horrible. Even though he didn't even have a chance to bring her home yet they had already bonded. It left a huge hole in his heart. I was livid and felt the shelter didn't watch the dogs after surgery and its why she died. Talk about awful. Poor girl never had a chance at a great life.
As he was leaving the shelter he walked down the isle of impounded dogs he seen a label "vicious pit-bull" on a dogs kennel.  Keith's sister had an amazing Pit bull, Zoe, at home and knew the stereotype they get.  So he stopped and talked to the dog, who was wagging his tail so hard he his hurt tail left blood marks on the walls. He didn't believe he was vicious at all and was allowed to adopt him and named him Tate.  The shelter estimated his age at 3.  The dog was really ill with bloody diarrhea when Keith got him home. Turned out the shelter didn't worm him as they had said. He had hookworms and whip worms to the point they could have killed him. The vet Keith took him to got him halfway straightened out. He still had parasites when he moved back home. I took him to our vet who treated him several times and he finally had normal stools and put on weight.    
Tate had been labeled as vicious by the pound. We will never know why. He was a big wimp. He was fine with all other dogs. He just would bark in fear at people. It took awhile but he eventually realized people wont eat him and was just a love bug. Always a doll with children. Those in uniform put him on edge. 
​Keith was so funny when our first litter of cavaliers were born he had to have one. He snuck a puppy away when they were 8 weeks old. Here this tough young man with his tough looking dog everyone thinks of as a pit-bull and now adding a pretty little Cavalier named Roxie that almost matched his bully in color. Tate though was as sweet as Roxie. 
They both slept with him. Roxie on his pillow kicking him in the head from the time she was a tiny puppy, and Tate sprawled out trying to hog the whole bed. Tate sadly passed away in early 2016 when he suddenly developed heart failure.
When Art and I brought home our first breeding French Bulldogs he begged to have one. Where he lived he had 2 dogs when only one was allowed, yet somehow he managed to bring home a third. A friend of his, Aryne loved Roxie and kept "borrowing" her and constantly spoiling her. Roxie loved it there.  Keith was already concerned about the number of dogs he had so let her stay over there a lot knowing Roxie adored Aryne, and Aryne needed a doggie friend. A win, win situation. Aryne still has Roxie been a few years now.
​He loves German Shepherds, the breed that I raised when he was a small child. I had strongly discouraged breeding German Shepherds, which he really wanted to do, as it is too hard to find wonderful, permanent homes for the puppies. So many end up in rescue. They are a terrific dog, but they are not for everyone! They require a stable, constant person, who is around a lot to call the shots.
Dixie, what looked like a skinny German Shepherd puppy came to Dreamcatcher Hill as a rescue puppy in the Spring of 2016, Keith seen her here and instantly claimed her as his baby.
Meanwhile he had been searching for property for almost 2 years. It needed to have at least a few acres, not in town, and be closer to me. He worked for me after work so closer would save time, and fuel to get here. He is a motorcycle technician. We looked at several affordable places. None of them worked out. Then we discovered by accident trying to find a place for Aryne to live that the property next door was for sale. It was perfect location. 
The place was trashed but the price almost affordable and it was literally next door, sharing our fence line. 5 acres, fruit trees, a beehive and all kinds of things that take time to establish. It took 4 months for the sale to go through the whole time terribly stressful and full of complications, due to the fact it had been contract for deed home the current resident was selling. 
Two rescues now currently protect and call Flint Creek home.  The first one, Dixie, the second one he brought home is Nate. He is a sable colored neutered male.  Nate had outgrown his town living conditions and needed more room to play, so in November of 2017 Keith brought him home to live on the farm. He was told he was well behaved house dog. Not the case, he marked everywhere, got into the trash, would get on the table and counters and in general proved the real reason the people did not want him anymore. Keith is working with him. As stated above about Shepherds, they are very smart and not a dog everyone is capable of training.
Keith spends his time when he isn't at work, or here trying to clean up the results of the hoarder who had trashed the property, working on creating his own nice neat farm. We had no idea the couple who had the place had burned so much trash in random places in the fields leaving bed springs, glass and all kinds of garbage, and collected so much stuff. Or worse that the roof was a disaster, the plumbing was leaking, ruining the bathroom floors and blowing apart at random times. It is a huge project. But its his own now and its in the country. Doesn't have any woods like he wanted but you cant have everything...
Now that he is right here the time he saves not driving has been a huge plus. His drive to work was also cut in half. The winters he works less at the shop, its sometimes almost like being laid off. He comes over and helps do repairs here. He knows how to feed the dogs, horses and pigs, and Aryne has been a a huge help with the dogs and puppies so we can leave if needed and know the critters will be well cared for.
​I had gone to a kennel sell out in March to look at French Bulldogs wanting a blue color one.  
They had wonderful pedigrees and colors. While there found out they had (English) Bulldogs too. I decided to help Keith start his dream of bullies, that were a variety that serious pet owners love. Plus the price was right and with 16 champions on the males pedigree very nice dogs. He loves the Frenchies but kept talking about the bulldogs too. 
I bought 2 females and the cutest male who seemed just so sweet. I was told they were AKC registrable, that they had APRI papers currently in hand. I didn't realize it but it was a father and his daughters from 2 different litters. Not smart on my part. We did finally get AKC papers on all 3 of them. Plus the dogs had odd itchy places. I was looking really close and realized they had dog lice! I have never in all the time I have had dogs seen dog lice. Needless to see we freaked out and got Advantage multi on them and made sure all the other dogs were up to date with their advantage multi. Fortunately it was very easy to completely kill all the bugs with the multi and we have not seen any since!
We found an unrelated male puppy months later. Art and I drove 11 hours each direction to go see the puppy. Keith had to work. 
That breeder was selling all his Bulldogs dogs too! He only had a few. So we also got the 2 adult females he had. None of the adults were related to each other, but the puppies he had were all sired by his male. Art seen the 8 week old puppies and HAD to have one for himself. Amazing Grace is a rollie polie butter ball! She now lives with his niece, who fell in love with her first time she seen her, on a foster to adopt agreement. 
My thought is always health testing. I figure its ok to start with a couple more then planned in case anyone does terrible with their health testing. If we wouldn't want to breed them then we would spay them and find them a pet home. That way only the best are bred. You cant get time back to wait and then go through searching all over again for great pedigrees and also great dogs and colors. It is a little different when getting a dog for just a pet. We have to consider if it is also breeding quality. 
His dogs love the place. He has some still here as they weren't all housebroken and he is working on some big repairs. The others he had in the house to start the housebreaking process. Boss the 5 year old male was SO happy. He has probably always been a kennel only dog. He loves the attention. He loves that he has a big fluffy cushion to lay on. He gets so excited to be out with people he has a hard time breathing and at first we would have to crate him in the air-conditioning in front of a fan to cool him down after just 5 or 10 minutes free time.
We discovered when he is in a crate he just calms right down. Probably preparing to be bored for hours, or days on end. I don't know how the previous owner had those 3 dogs.  It took him a fews weeks but he learned how to come outside, be all happy, and if he got to hot to take himself back inside and lay back on his cushion in the airconditioning.  
​The 2 girls we got when we bought Boss were terrified. They had never been on a leash. One didn't want to be touched, and ran to hide. The other was really silly and friendly. They had no clue about doors, or anything. 1 year old and probably had always been in a kennel. They were a nightmare to get to not potty in the kennels inside and wait to go outside to potty. They would walk and jump all in the dog poop smearing it everywhere. We finally just put them in an outside kennel they were so disgusting. We clean kennels all the time. Our dogs avoid stepping in dog poop, unless they are particularly excited like when we have company. These 2 paid no attention at all.
Now that they have been clean for a long time they seem to finally understand you don't have to go potty where you sleep, and you also can avoid stepping in it. They are catching on. Dottie was so shy and fearful is was sad. She finally will come up to people she knows and even let us pet her without running to hide. They both walk on a leash quite well now too. They are SO sweet never act aggressive, even when we had to corner Dottie to pet her, or pick her up to bring her someplace, until she got use to the leash. I can see why people love the breed, they are so sweet and loving, even when frightened. Honey never cycled right and she has been adopted out. Dottie had a little of mini-bulldogs and has been adopted out. She is such a doll but Keith didn't have enough time for the number he had. 
​Spike, Chloe and Phebe and the puppy, Grace all came from the same place, an Amish family in IN. They are all very friendly and were use to being let out to play, and getting attention. They also are very neat about not going potty in the kennel and they wait to go outside, well except for Spike. If somehow they have an accident they do not step in it. You can tell they had been kept clean. 
Spike is a goofball and steps on your feet, objects, and anything so he never pays attention to where he is going so he is a bit of a slob. 
So much better then where the first 3 had come from though! Some Amish breeders get a bad rap, as they can be terrible puppy mills, but this family was very kind and kept their dogs very well cared for.Their vet care was different and not up to what we are use to seeing. They had issues their vet didn't diagnose correctly, and therefore didn't treat. The dogs were very happy, well fed, clean, and the children you could tell loved them.
Slide show has past Bulldogs, who have been retired and adopted out, and some photos of the Bulldogs still in the breeding program.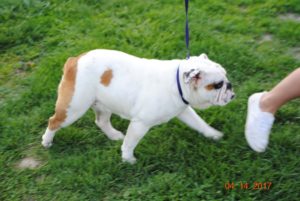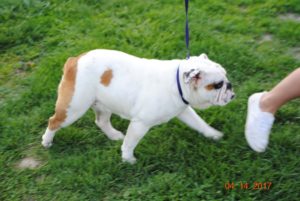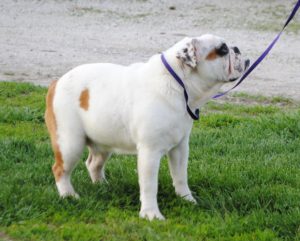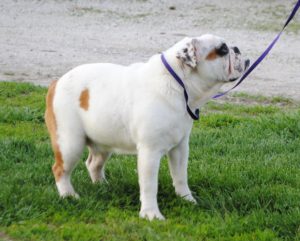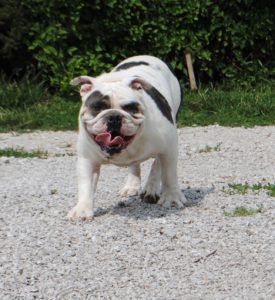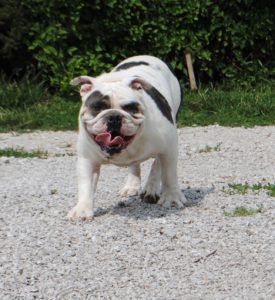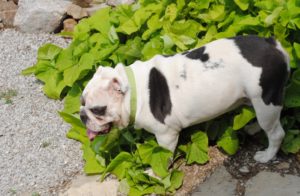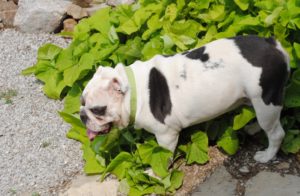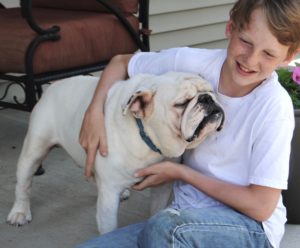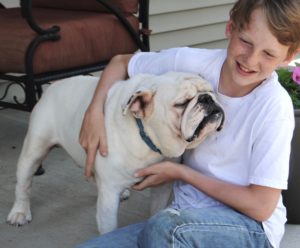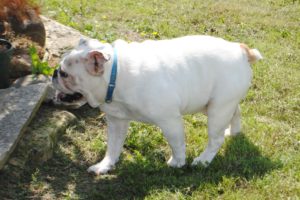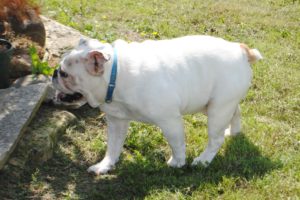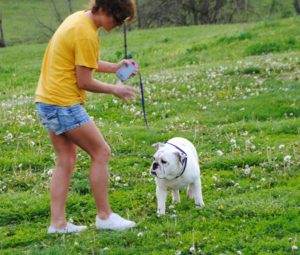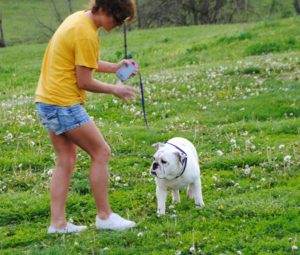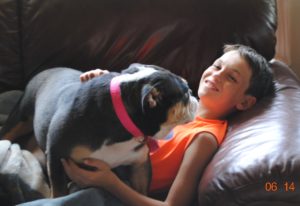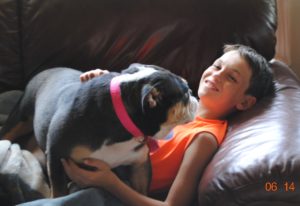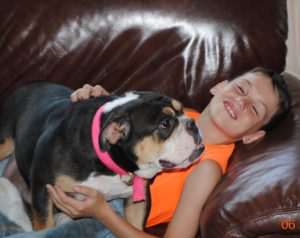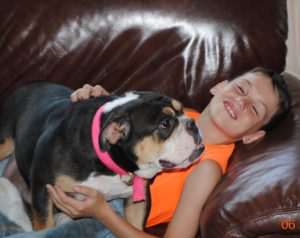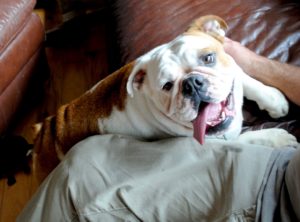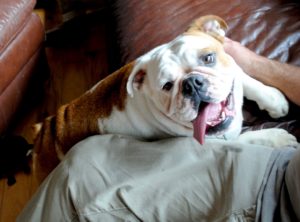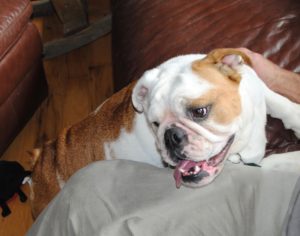 Honey, retired and in hime with a family.