CAVAPOO / CAVOODLE PUPPIES!
See History of how we started with cavapoo/ cavoodle puppies bottom of page.
Scroll down to see each litter, if any are available, slide show of past puppies, and puppies due to be born.
These are one of the favorites for families who want a minimal shedding dog capable of going about anywhere and keeping up with the family, plus oh so cuddly! They have a terrific happy, friendly, personality, smart so easy to train and of course adorable!
Common misunderstanding!
Cavaliers, Labradors, Golden Retrievers, are not hypoallergenic. Their poodle cross puppies will NOT be hypoallergenic! They will not cause less allergy symptoms being only half regular dog!
There is one original breeder of labradoodles ,or goldendoodles who did genetic testing to breed a line which is hypoallergenic. I don't know who it is only read about it. Those dogs are hypoallergenic. If there is no DNA testing proving hypoallergenic then everyone else's dogs are not hypoallergenic, no matter what they falsely claim. We do not encourage anyone who has dog allergies to ever get a dog that is not a hypoallergenic breed! It is not good for those with dog allergies to be constantly bombarded by allergens. It is not good for the puppy to be re-homed when it is finally realized what a problem the allergies are.
Please keep this in mind. Half or even 3/4 poodle with a regular dog is not hypoallergenic.
To have a hypoallergenic puppy BOTH parents must be hypoallergenic breeds, or crosses of hypoallergenic breeds! (see our hypoallergenic page for our hypoallergenic puppies.) 
Cavapoo puppies adopted for a pet and on agreement to be spayed or neutered between 5 and 6 months of age are $1800. (plus IL sales tax is 7.25%), which includes microchipping and current vaccinations.
See farther down below slide shows of past puppies for "mom's due" for adorable cavapoo's due to be born, and availability before emailing please!
This slide show has past cavapoo puppies sired by Bubba.
When Bubba (our red, AKC toy/mini size Poodle, is bred to our AKC blenheim color Cavalier moms we get red puppies, some with no white some with white markings. If mom Cavalier is tri, or black and tan we get black, or black and tan color puppies. (blenheim is the cavalier term for a red and white color dog.)
These puppies are all sired by Bubba. If interested in a Bubba puppy please see below for litters due.
Photos are from newborn babies up to photos families have sent us of their puppy much older with adorable hair cuts!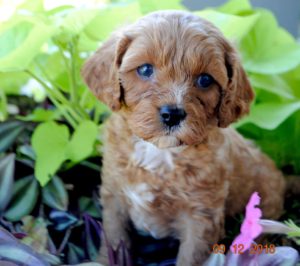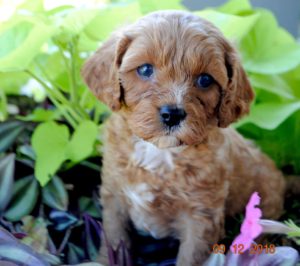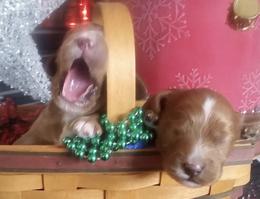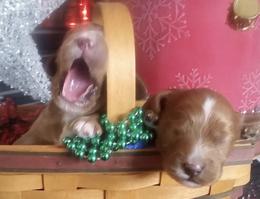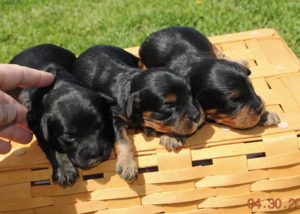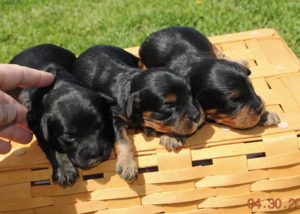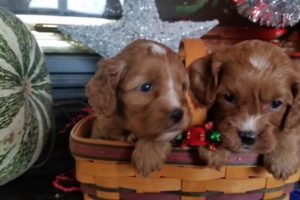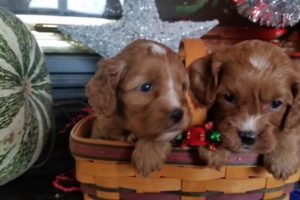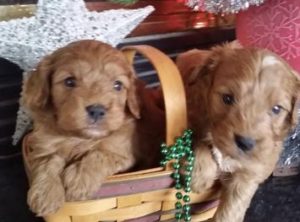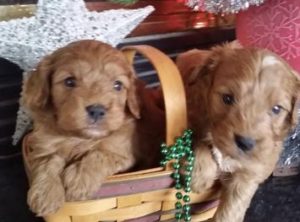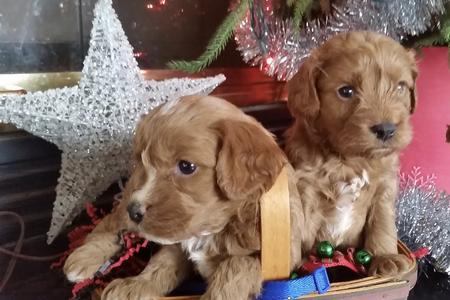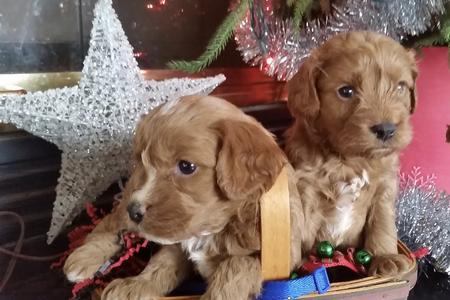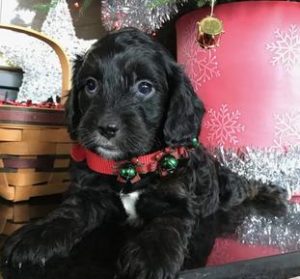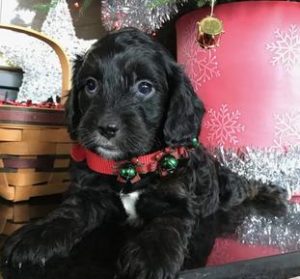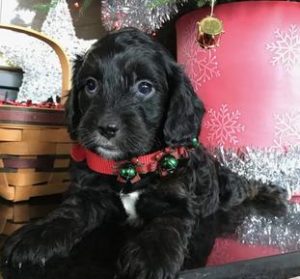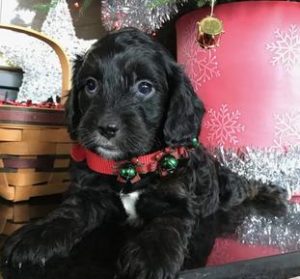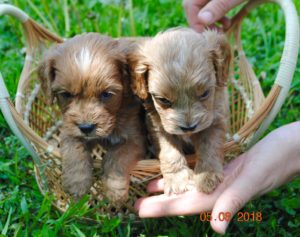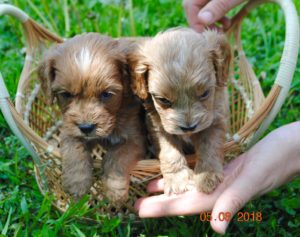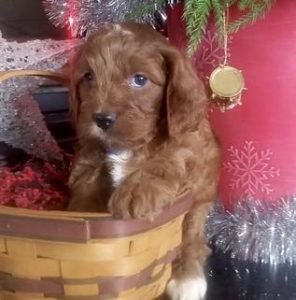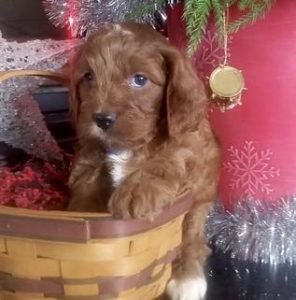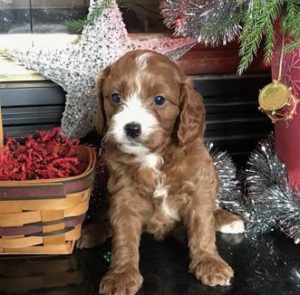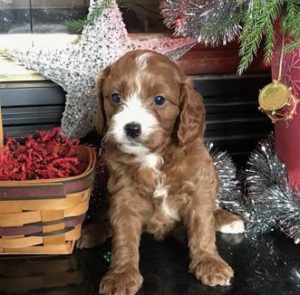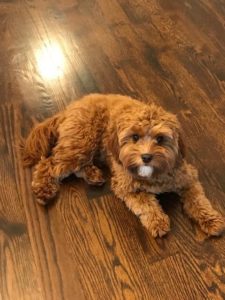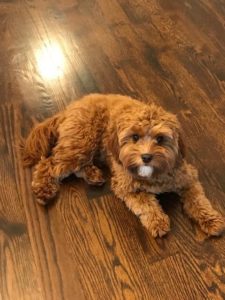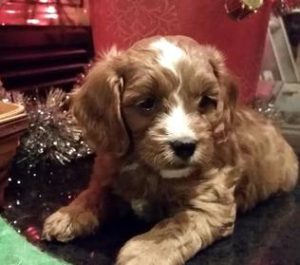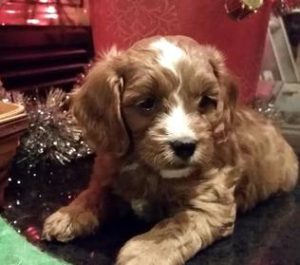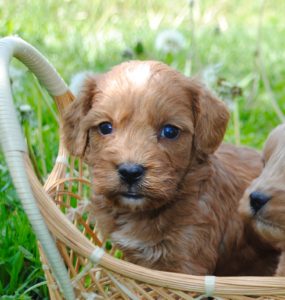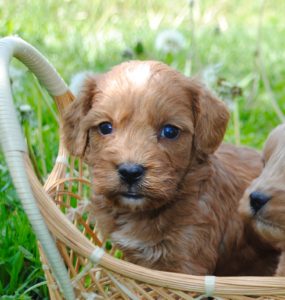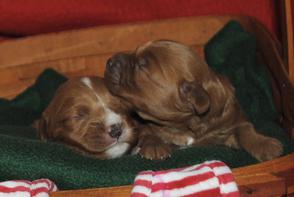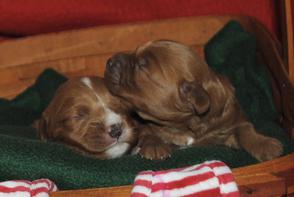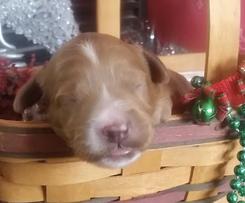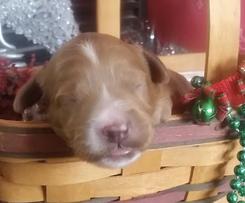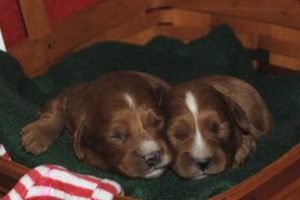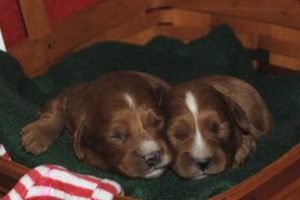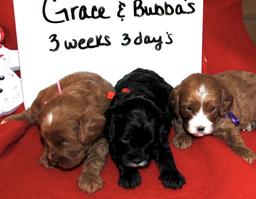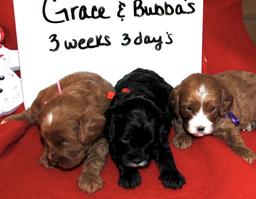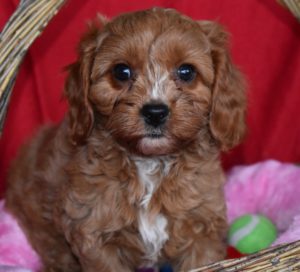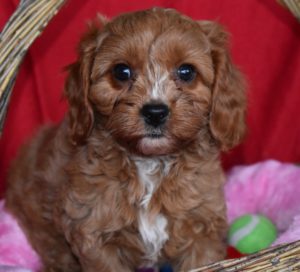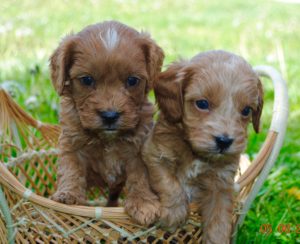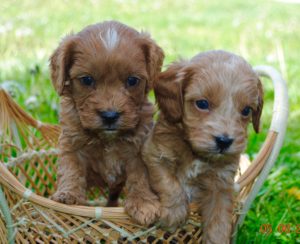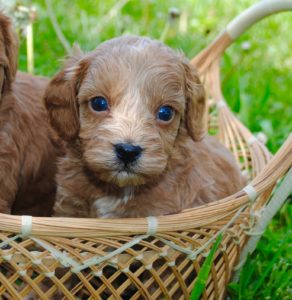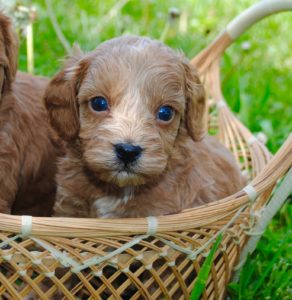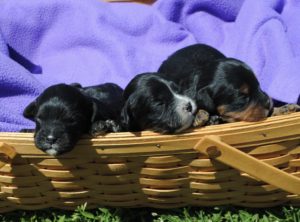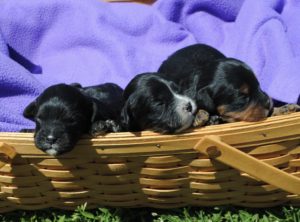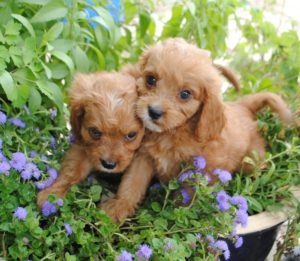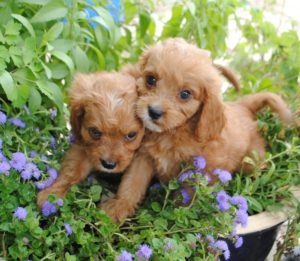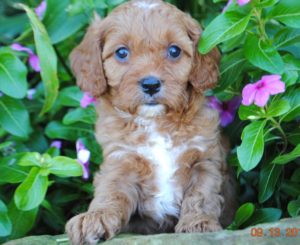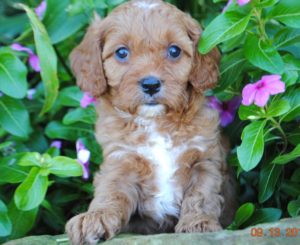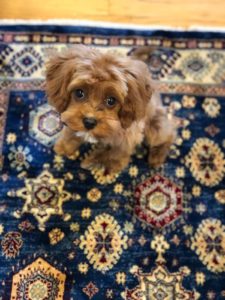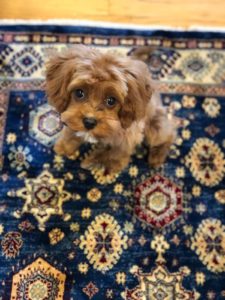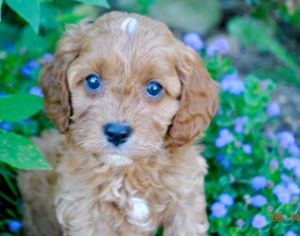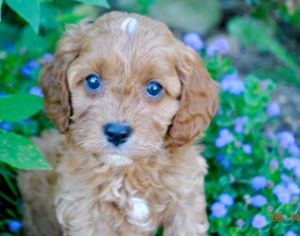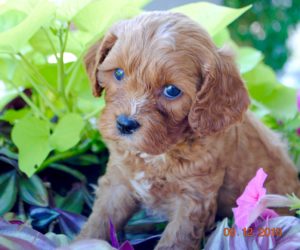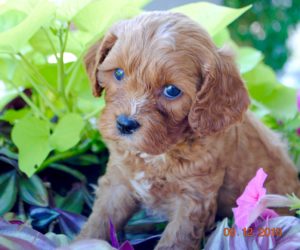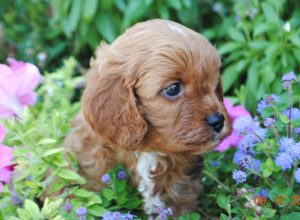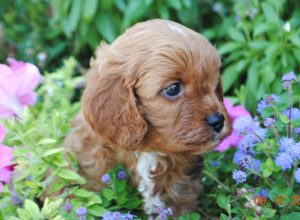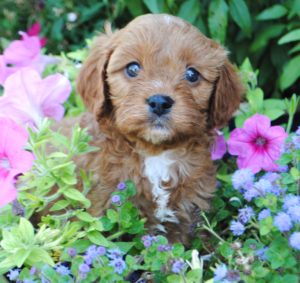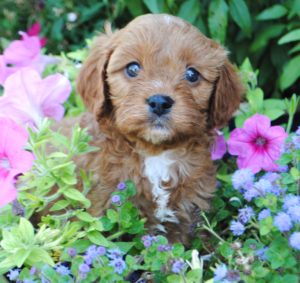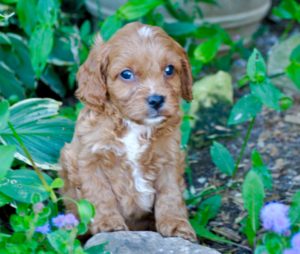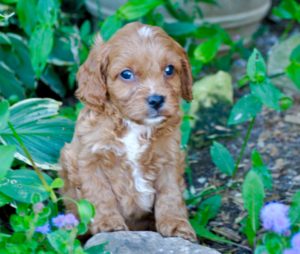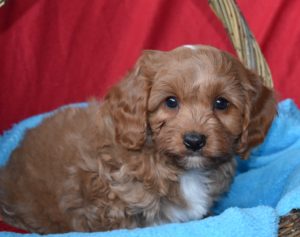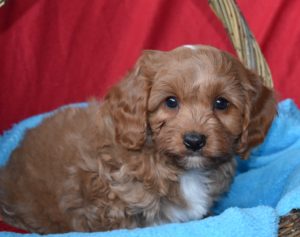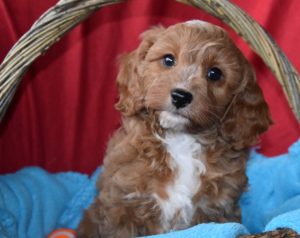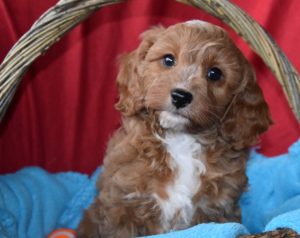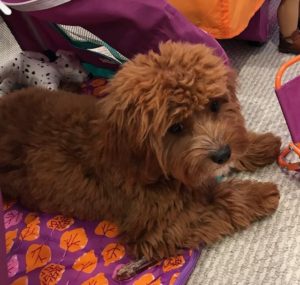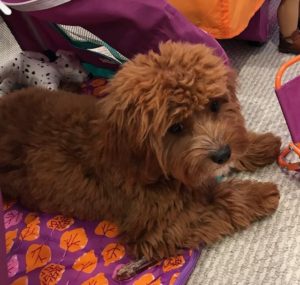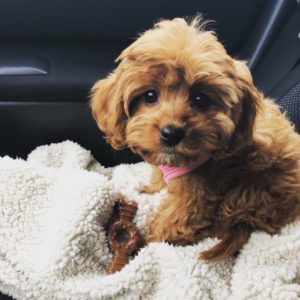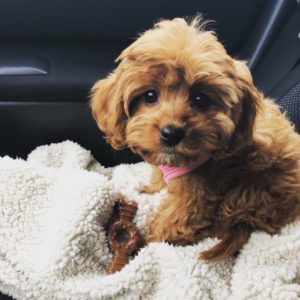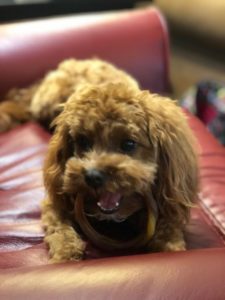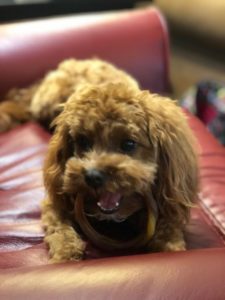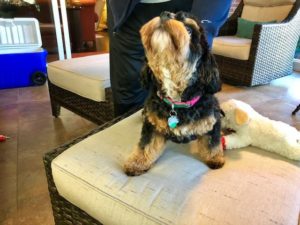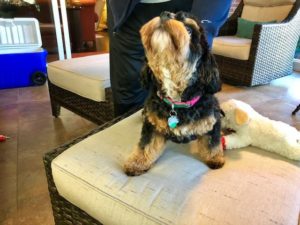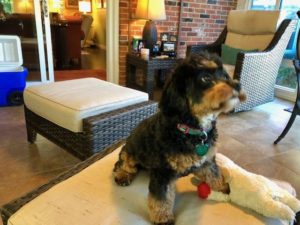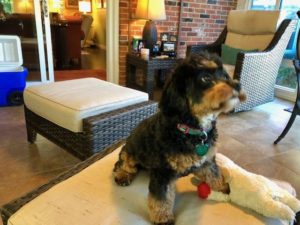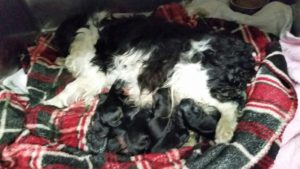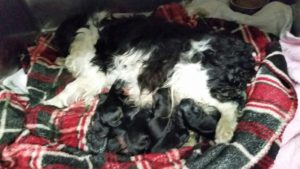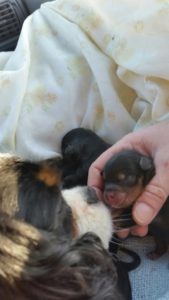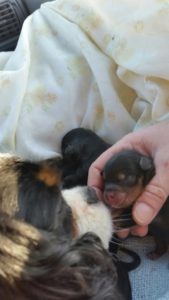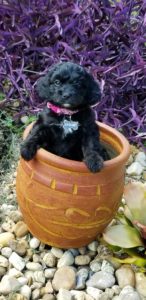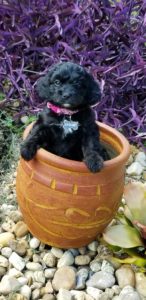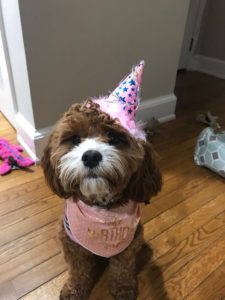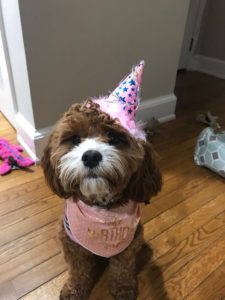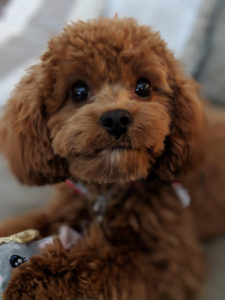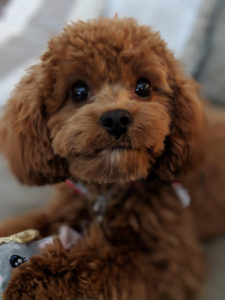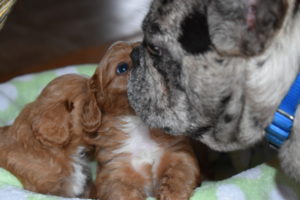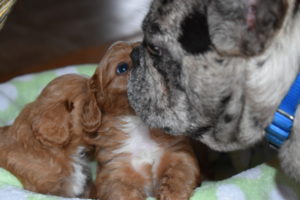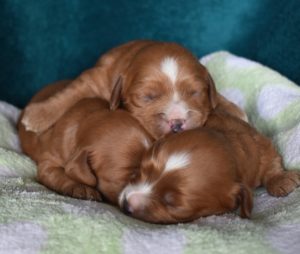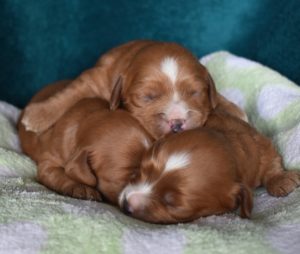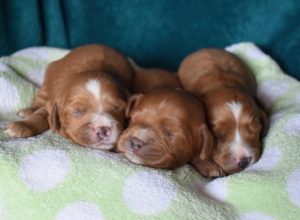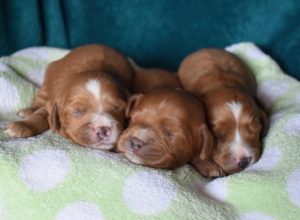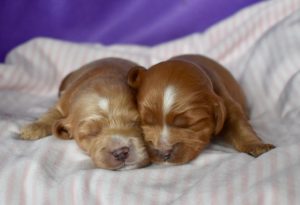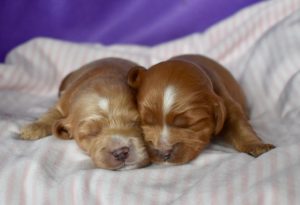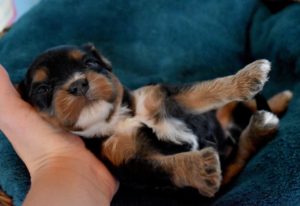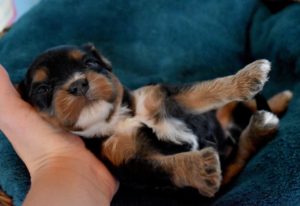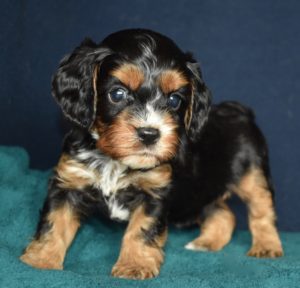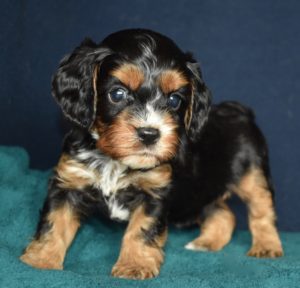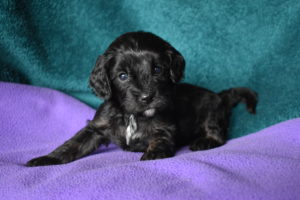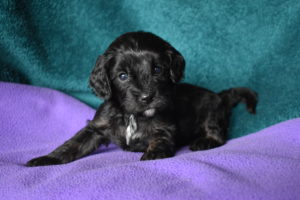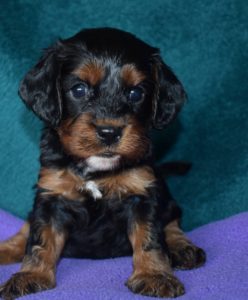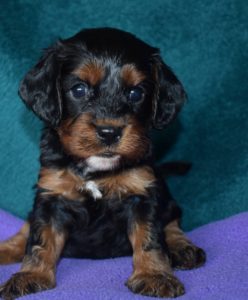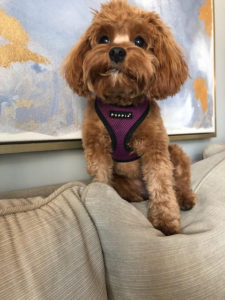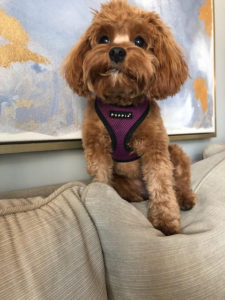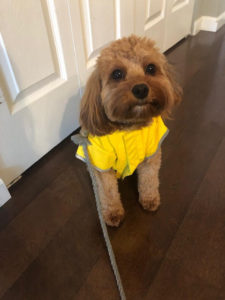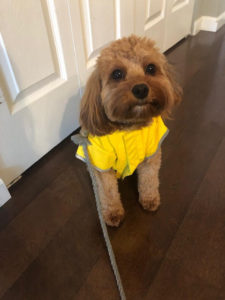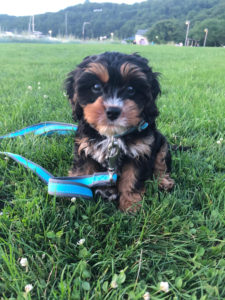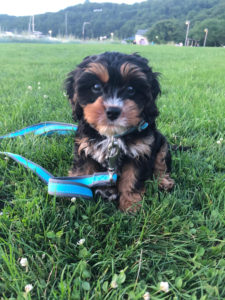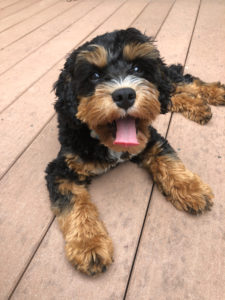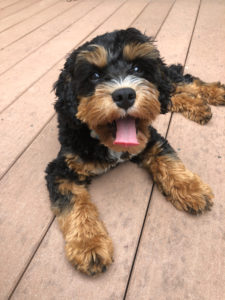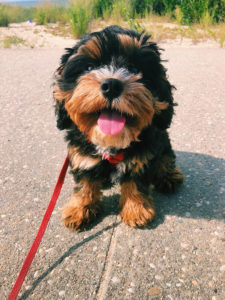 Processed with VSCO with c1 preset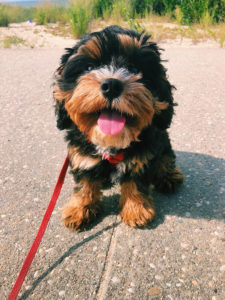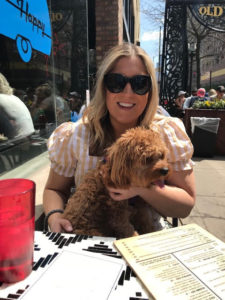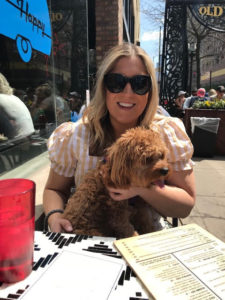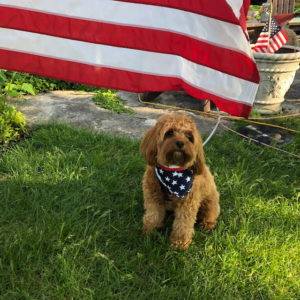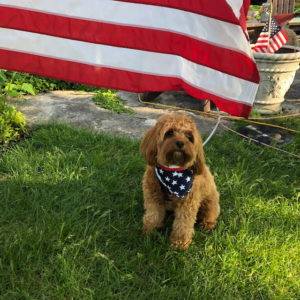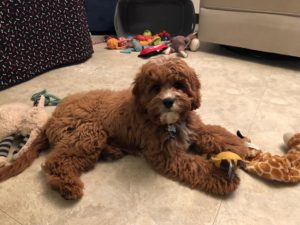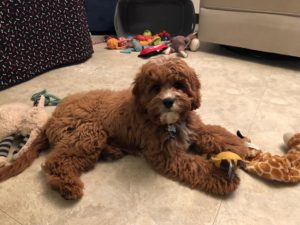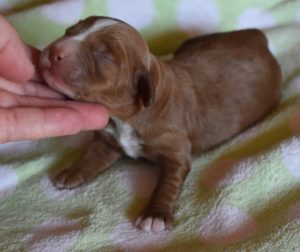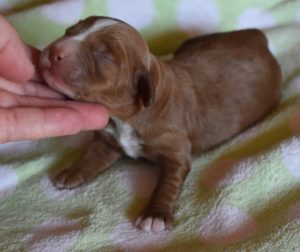 This slide show is past cavapoo puppies sired by Cappuccino.
When Cappuccino (our AKC Toy Poodle, chocolate merle color) is bred to our AKC Cavalier moms these are the colors we get.
Black, Blue Merle, dark Brown, any can be with a lot of white, or without white. See below for any litters due to be born which are sired by Cappuccino if interested in puppies of these colors. (very young puppies don't have much hair, it grows long, fluffy and curly as they get older, and brown becomes more noticeable with age.)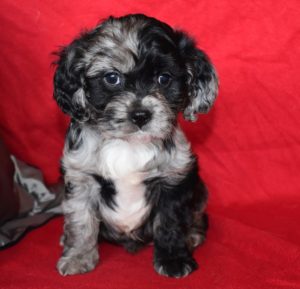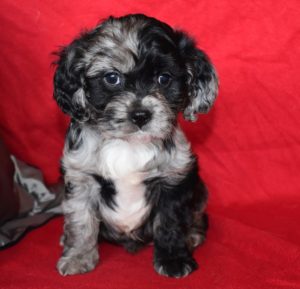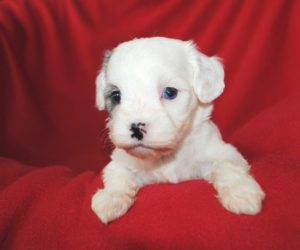 Alice Blue as a baby, Merle and white color.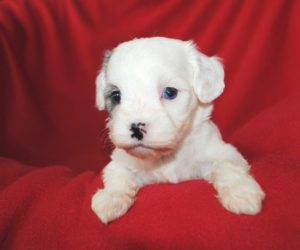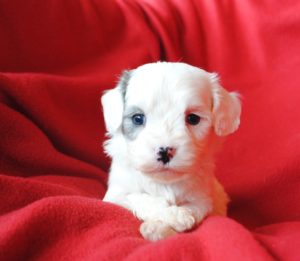 Alice blue as a puppy, Merle and White color.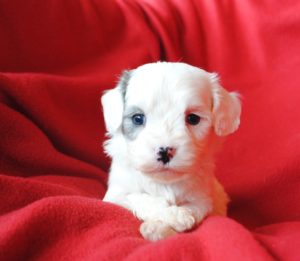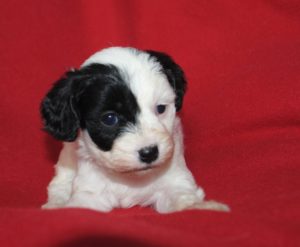 Black and white, Cappucino son.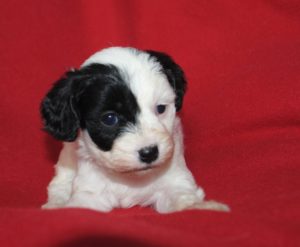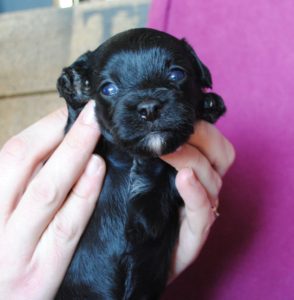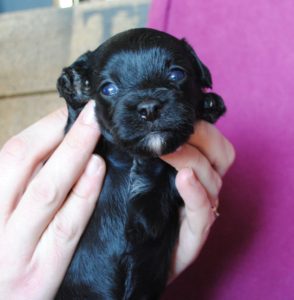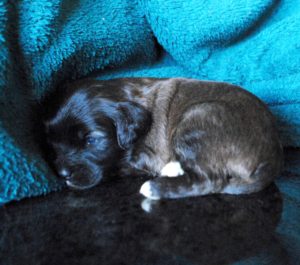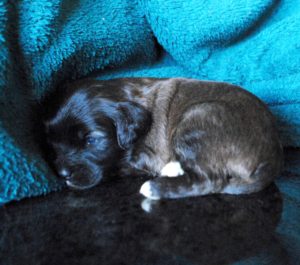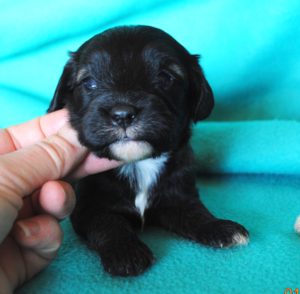 Dark brown Cappuccino sired puppy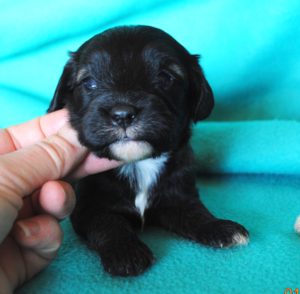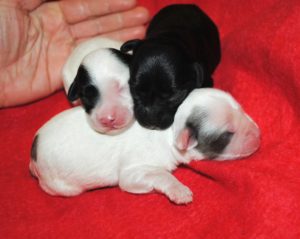 Black and white girl, Black girl, Blue Merel and white girl.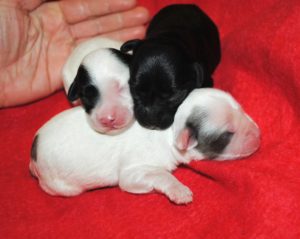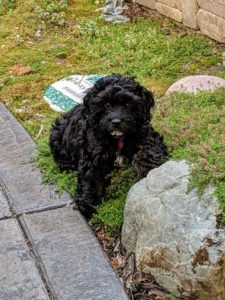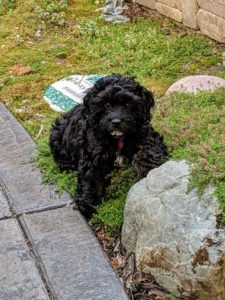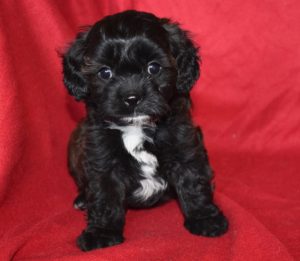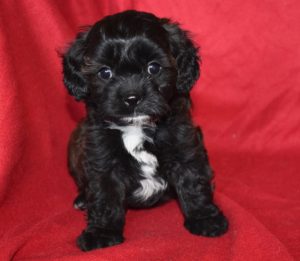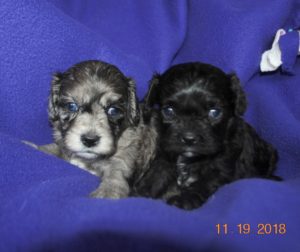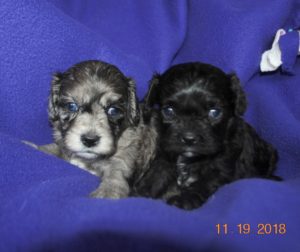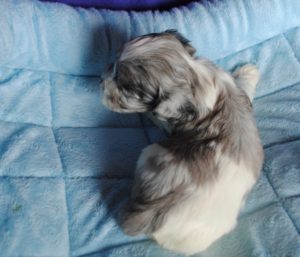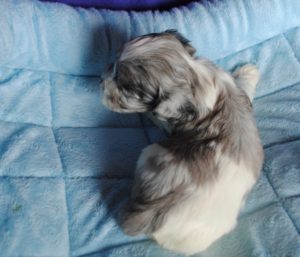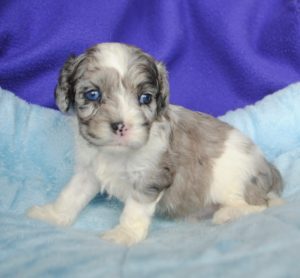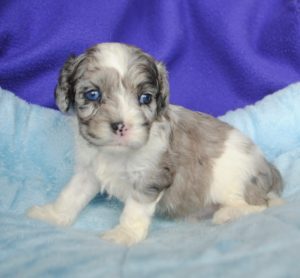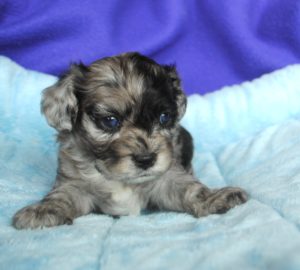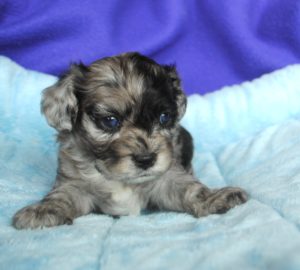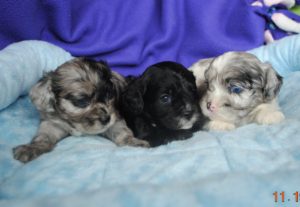 Cappuccino's puppies, cavapoo.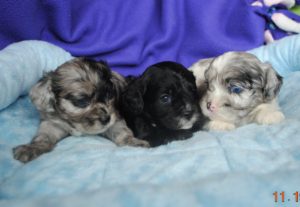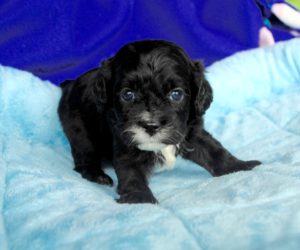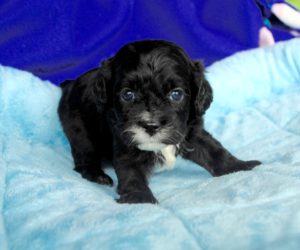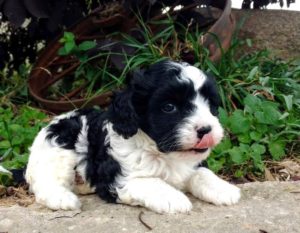 Black and white cavapoo, sired by Cappucino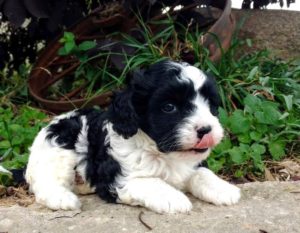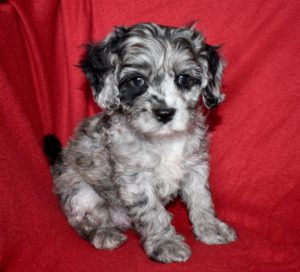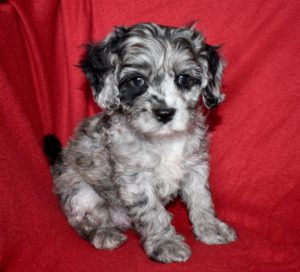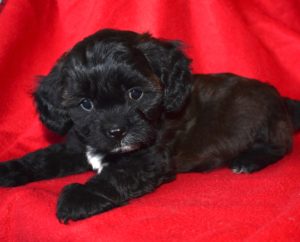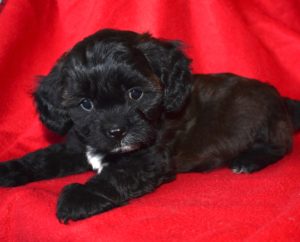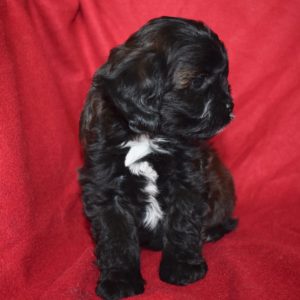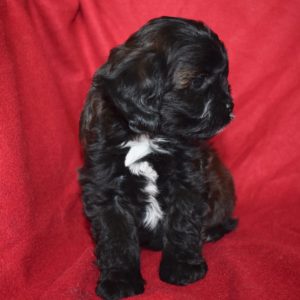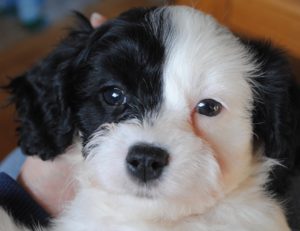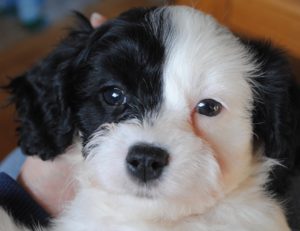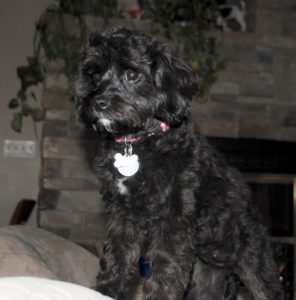 A little older cavapoo puppy.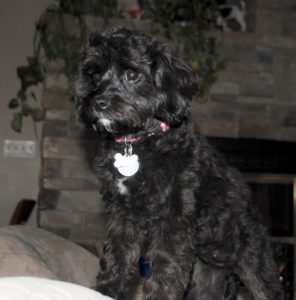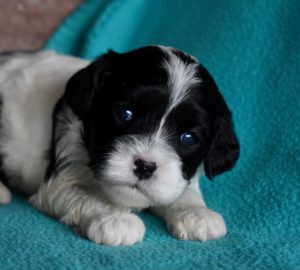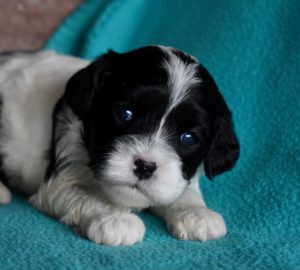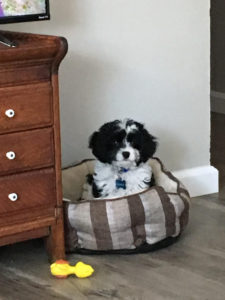 A little older cavapoo puppy sired by Cappuccino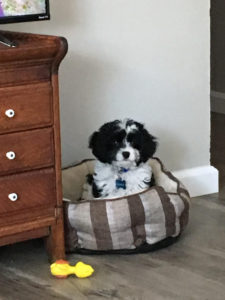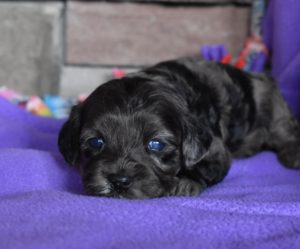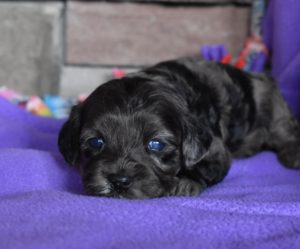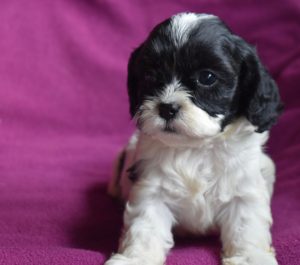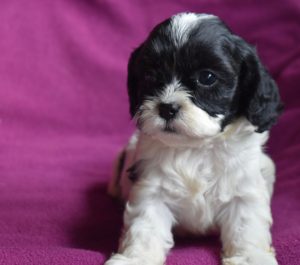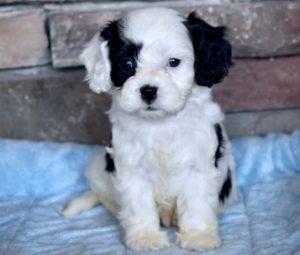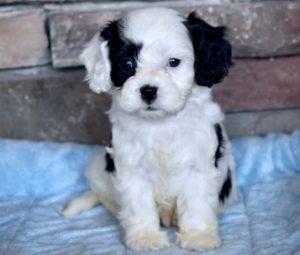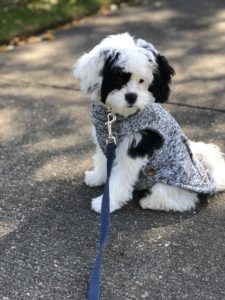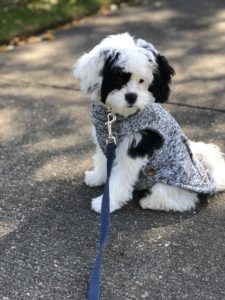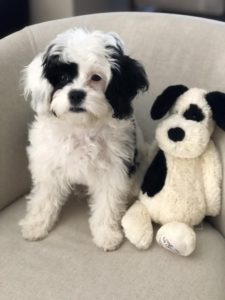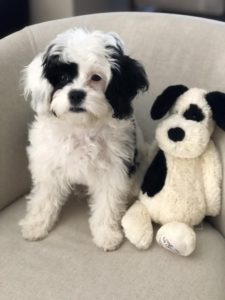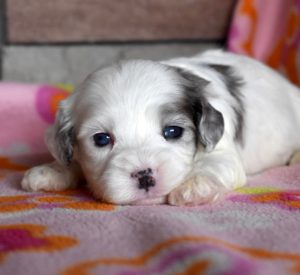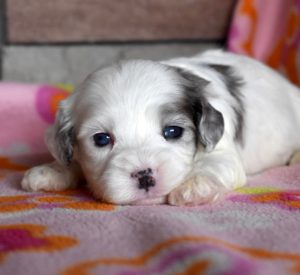 Alice Blue, 4 months old, Cappucino- Nellies daughter.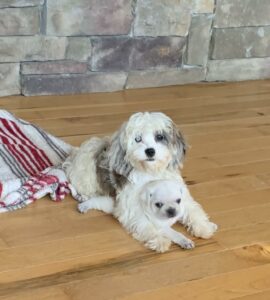 Alice Blue, 4 months old, with a 4 week old pug puppy.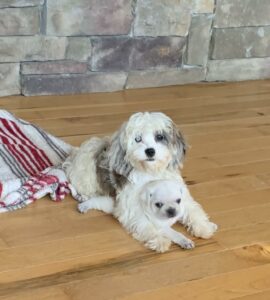 Aryne's toy poodle "Sonny Boy" when bred to her AKC cavalier "Sophie" (blenheim , red and white, color) will consistently have parti color puppies.
These are photos of their last puppies.
Aryne only has the 2 dogs of her own she breeds. Sophie is from us, and Aryne is a good friend, so we post her available puppies. She uses the same guarantee and we oversee her puppies basic health care.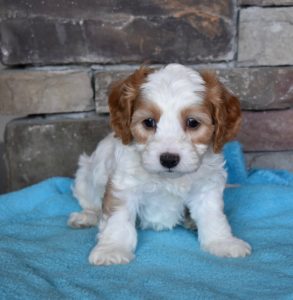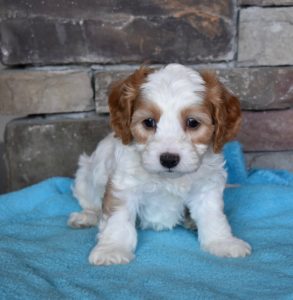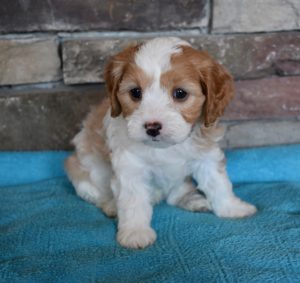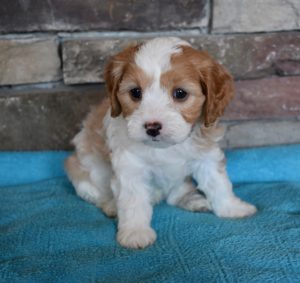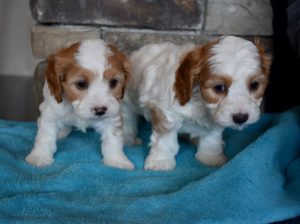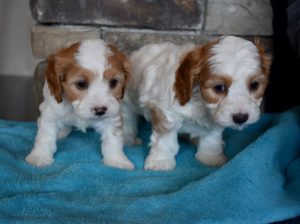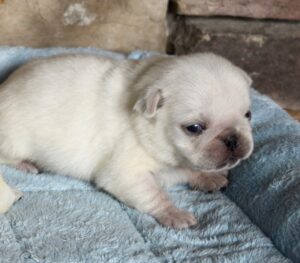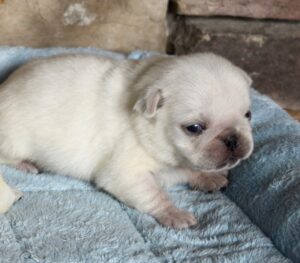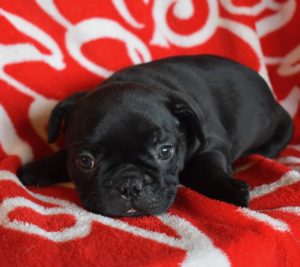 all 4 puppies, 3 weeks old.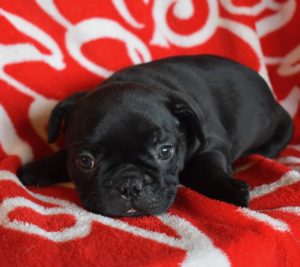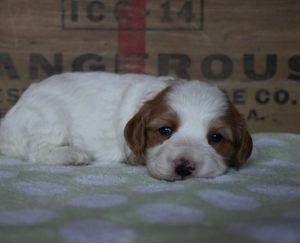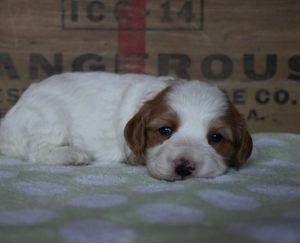 Mom's due!
Sophie bred to Sonny Boy and will have puppies born in March, she is pregnant.
Pretty Girl a red and white has been bred to Cappuccino, and is pregnant. June has been bred to Bubba, but I dont think she is pregnant. Lana has  been bred to Bubba, due in April. She is tri, so they can be his other colors; black, red, or black and tan. Keep reading for availability.
See the hypoallergenic page for other terrific poodle cross puppies with great temperaments, which are also easy to train.
(The girls do like to cycle about the same time as each other.) We will have no puppies and then they all want to have them at the same time!
Deposit information for future puppies
Until the puppies arrive we just don't know how many, or what gender they will be.
Deposits for puppies not born yet are simply for a puppy either in an expected litter, or for one who will be 8 weeks old closest to when a puppy is desired, your choice, depending on actual availability. We let families pick their puppy in the order we have received deposits. There may be a puppy available in the next litter, or it may be a few litters particularly if your wanting specific color/gender. There is no way for us to know what colors, or gender will be born, or what families with a deposit will choose to have any specific availability date.
The black and tan puppy is Raina, she is a Jolie and Bubba daughter. The merle and white puppy is Alice Blue, she is Nellie and Cappuccino's daughter. We have kept both of these for future mom prospects.
They will have F2 generation of cavapoo. So they are 1st generation Poodle and Cavalier and we will breed to poodle, for 3/4 poodle and 1/4 cavalier puppies.
Will add photos as they grow. Raina is really smart and is training us quickly! Alice is also just as smart but not as mischievous!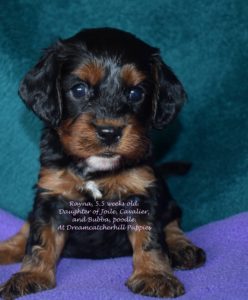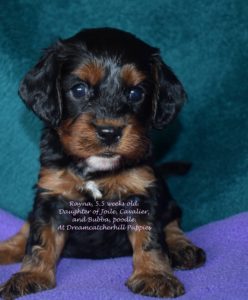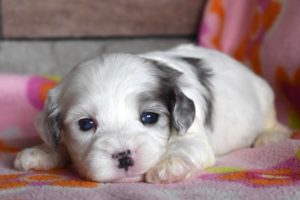 Alice Blue, 3 weeks old. Cappuccino and Nellies daughter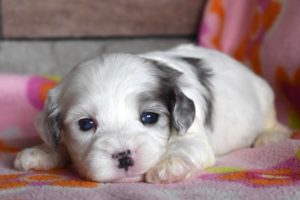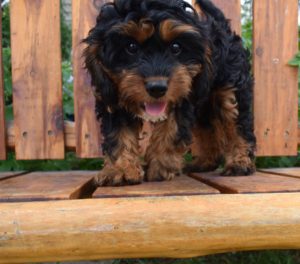 Raina,3 months old Bubba and Jolies daughter.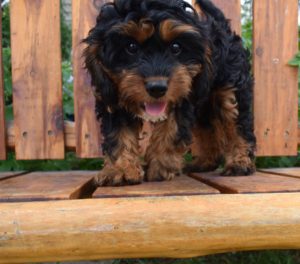 Raina,3 months old Bubba and Jolies daughter.
Raina,3 months old Bubba and Jolies daughter.
Alice Blue, 4 months old, with a 4 week old pug puppy.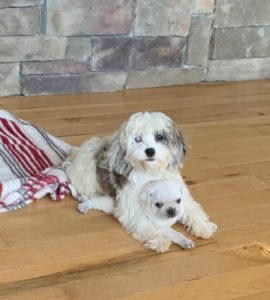 Alice Blue, 4 months old, Cappucino- Nellies daughter.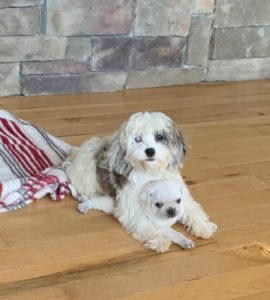 These adorable Cava-Poo's were our first litter. We wanted to keep them both, they are as soft as angora goat hair, and sweet happy puppies! They were born 4-30-16, and have both gone to forever homes.
We get to see Teddy, now Baxter, off and on. They adopted one of Nala and Bubbas girls July 2018 because they love Teddy/Baxter so much! 
We loved the cavapoo puppies so much we worked to find wonderful AKC poodles to have cavapoo puppies regularly.
The coat is the silkiest, softest ever and no matting! I brushed them for the first time at 10 weeks old worried it would be tangled, even though it has never felt like they needed brushing, it wasn't matted at all. Only took a few minutes! I am so impressed! (As an adult they of course need grooming as needed, although nothing like a shichon who tangle all the time!)
They are real live teddy bear's. 🙂 We had started to keep both boys, but we have just too much going on at the moment and it really didn't make sense to keep them, as much as we had fallen in love! Their new families are really happy they were able to adopt them. 
The first generation cross of Cavalier to poodle is what gives you the consistent, super cute look, and reduces the chance the most of any genetic problems from either breed (called F1). Hybrid vigor is a well know term, but it mostly refers only to a first generation cross, and only when the parents do not have the same problem. 
They don't shed at all, or so little you cant tell like a poodle. They are claimed to be hypo-allergenic due to the poodle half, but only a purebred, or mixes of purebred hypo-allergenic dogs are hypo-allergenic. Cavapoo, goldendoodles, labradoodle, are NOT hypoallergenic, avoid being misled and getting the wrong puppy for your family. (See hypoallergenic page if you need a hypoallergenic puppy.)  
Their mother was AKC Cavalier, Lana, daughter of Nala and Quanah, both are CHIC certified. She weighs only 9 pounds and why we wanted to breed her to a tiny male. 
Sire was a silver 4.5 pound poodle. He was 9 years old, no health problems at all. We had him neutered and adopted as a pet due to a previous injury we discovered he had prior to us getting him.
After seeing these 2 puppies and falling in love with them we were crushed it was going to be the only litter of Cava-Poos from the little 4.5 pound poodle male.  
We loved the cross so much we adopted a poodle baby in September 2016. Bubba is from a quality breeder who has great AKC registered, health tested, adorable poodles. The following year we adopted Cappiccino, AKC chocolate merle also from health tested bloodlines. See Poodle parent page for more on them. 
At the time my mom, 80 years old, and still has red hair! Thought it was so funny when I realized she and the cava-poo, Teddy, matched!